When deciding to review for
Progeny Press
, we had to really take our time in deciding as there are just so many good options for a faith-based
book study
. In our grade range (K-3) there was The Drinking Gourd E-Guide or The Minstrel in the Tower E-Guide.
Of course, if you have children outside of the K-3 grade range there are plenty of other great options, such as Indian in the Cupboard E-Guide or maybe your student would prefer the humorous option with Mr. Popper's Penguins! Point being, there are many great options at Progeny Press!
At Progeny Press you can find classic literature Study Guides in all grades, from Kindergarten through to Grade 12. These guides come in 3 convenient options:
a printed workbook

a CD

an E-Guide
Progeny Press also provides, in their online store, audio books and printed books, of which their study guides are based off of.
Progeny Press provides a helpful video to help us
learn more
about they company, and their goals/missions.
The Minstrel in the Tower E-Guide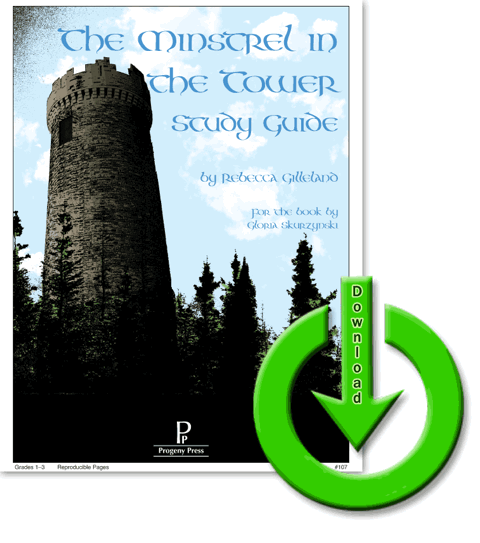 The Minstrel in the Tower, by Gloria Skurzynski, is an eight chapter book, set in France in the year 1195. It is about two siblings, Roger and Alice that live alone with their ill mother. The siblings are sent on a quest, by their mother, to set out and find their uncle and are given a lute that he will know them by. Their journey finds them captured and locked in a tower. Alice, a good climber, escapes out the tower window and must continue alone to find her uncle and bring him back.
The E-Guide begins with:
Note to the teacher - 'how to use guide" and note about internet references

Synopsis

Background Information - info about the time period

About the Author

Before-you-read Activities - five creative ideas to get you started
learn vocabulary, with the use of a dictionary
be asked questions that will strengthen their understanding of the literature
apply a bible verse to the themes and topics of the literature as well as character traits
learn the use of figurative language, such as a simile
better understand literary techniques
use a thesaurus to learn synonyms
learn about descriptive words
After the eight chapter study there are After-You-Read Activities. Here you can pick and choose from:
Writing Projects
Oral Report
Cooking Center
Art Center
Craft Center
The E-Guide ends with a hefty list of Additional Resources and then the Answer Key.
How we used this E-Guide
I had my 3rd grader (age 9) complete the guide, doing a section 2 to 3 times a week. We did read the chapter book in it's entirety to start; but, we'd re-read each chapter, together, each time we started a new chapter guide.
An example of 1 week for us would be something like this:
Day 1: Read the next chapter together. Print and answer the vocabulary questions.
Day 2: Answer the analysis questions together. (my guy hates writing so we'd do this orally)
Day 3: Dig Deeper - examine the story when applied to Christian faith.
With Day 3 of our schedule I'd have my student also write out a verse as a form of extra copy work, outside the E-Guide.
I enjoy using Progeny Press E-Guides with my kids because it gets them using a dictionary, and turning to their bible to examine further, qualities and characters mentioned in the literature. I like that they learn literary terminology and are really thinking about what they read in the book, and seeing how that might apply to real life.
___________________________________________________________________________________________________
If Minstrel in the Tower E-Guide doesn't suit you consider reading about our previous experience with Progeny Press' interactive
Stone Fox E-Guide
. Also, other reviewers on the Schoolhouse Review Crew have reviewed:
The Drinking Gourd E-Guide
(gr K-3)
Mr. Popper's Penguins E-Guide
(gr 4-6)
The Sword in the Tree E-Guide
(gr 4-6)
Give Me Liberty E-Guide
(gr 6-8)
Indian in the Cupboard E-Guide
(gr 6-8)
The Scarlet Pimpernel E-Guide
(gr 9-12)
Great Expectations E-Guide
(gr 9-12)
You'll find them by clicking the banner below: