We have long been lovers of unit studies as this particular method of learning (or teaching) is the easiest and most fun for us. It allows our multiple ages to all learn many subjects together, all centered around one chosen topic. We have spent time with
Homeschool Legacy
before, and the wonderful Once-a-Week Unit Study topics that can found there.
For the past several weeks we have been learning the difference between pirates and privateers as well as truths and myths of these seafaring scallywags with the help of Sharon Gibson, founder of
Homeschool Legacy
. She has done a fantastic job of creating a thorough yet quick study with her Once-a-Week Micro-Studies
Pirates or Privateers: You Decide
.
What sets Once-a-Week Micro-Studies apart from the bigger Once-a-Week Unit Study is that these "micro" studies are designed to provide us a quick, but thorough, foundation in one of five offered topics. There are no biblical devotional times as with the more detailed Once-a-Week Unit Study. You also won't find the American Heritage Girls, Boy Scouts, nor Trail Life USA badge requirements with these Once-a-Week Micro-Studies, nor a long library list of required reading.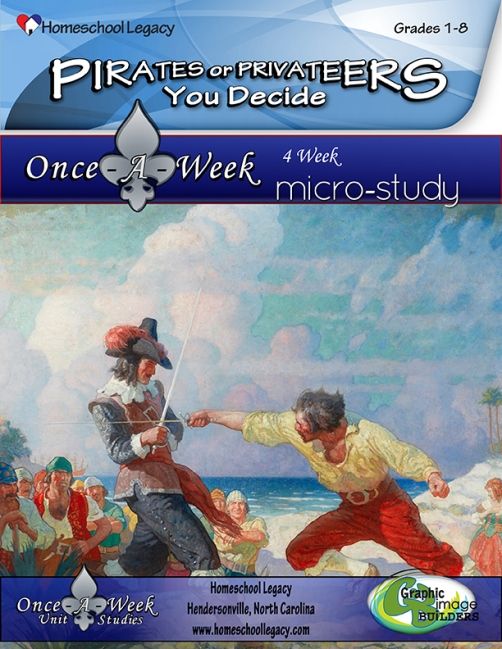 The Once-a-Week Micro-Studies are created as digital ebooks and as such have many helpful internet links to enhance our learning. With Pirates or Privateers: You Decide we are given fun links to websites for video clips, and maps, timelines and linked articles which all help to enhance our history study.
Pirates or Privateers: You Decide is a 22 page PDF that provides us with 4 weeks of history. It is intended for landlubbing students in Grades 1 through 8. All that's needed for the "Grab-N-Go" study are basic school supplies and one copy of Robert Louis Stevenson's Treasure Island.
How We used the Micro-Study
In the first week of study we "set the stage" and learn the earliest recorded history of piracy. We learn a bit of geography right along with the history. A timeline is linked within the ebook for us to begin a timeline as a family, using the images provided for us in the unit study.
We already had started a timeline last year so we opted to update our own timeline. I do like that one is linked and provided for us for those that don't have a timeline started.
I printed off the first week's pages to read on the go during a short family vacation, and I used the provided download link to print off the Spanish Galleon paper. My two students (1st grade and 4th grade) read the printed pages together and my oldest finished off the labeling of the Galleon.
Entering into
week 2
we learn more history and language history as well as Good Queen Bess' role in the history of piracy. (This was actually so timely as we were just finishing up learning about Queen Elizabeth I and my 1st grader just fell
so
in love with the Good Queen - so this section of pirate history happened to be especially fun and an easy learn for my 1st grader).
Two movies are suggested throughout this Micro-Study, and this second week's lesson prompts us with the first Family Movie Night. These movies, to me, seem better suited for the higher grade range of this study, however, in the intro of this unit Sharon gives us several ideas to better suit a younger crowd.
Week 3
provides us with an additional Family Movie Night and games that pirates would have played! One such game happens to be my 4th grader's favorite (checkers).
History, Language Arts, and Music are the focus of this week. We learned how the pirates became known as Buccaneers and a True/False section is provided for us to learn the difference between what pirates actually were like versus Hollywood's portrayal of them.
Week 4
we learned how pirates actually might have dressed. We combined this suggested activity of dressing like a pirate with week 3's music lesson and had a little fun swabbing the decks to the tune of
Shiver Me Timbers
.
In this final week we learn of government, and the Pirate Code (a lot of which actually shocked me!). We also learned of current events and are linked to a short video clip of the American Navy pirate hunters.
Final Thoughts
The Once-a-Week Micro Studies are a great and engaging way to learn history. No stuffy old and boring books here! My eldest has enjoyed playing pirates for many years now and this micro-study has renewed his love of playing pirates - but now with a good solid history lesson under his
belt
scarf.
With Thanksgiving around the corner why not consider a fun history lesson with
Thanksgiving with the Pilgrims
?
To see additional reviews of Homeschool Legacy's Once-a-Week Micro-Studies click the banner below: