Our family loves to listen to audio stories anytime we are driving. Even our youngest, at age four, will ask for a "talking story" (meaning he wants a story as opposed to a song). It is hard to find good quality audio stories where the reader is pleasant to listen to and even harder to find a good Christian audio story.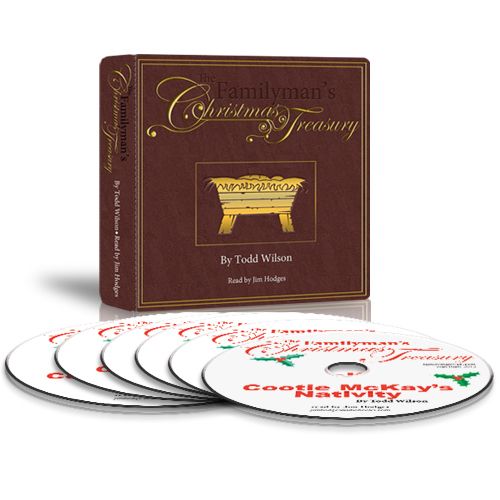 The Christmas Treasury Collection, which is available on 6 CDs or as digital downloads, provides us with a way to enjoy wholesome family entertainment throughout the holiday season. The six audio books in the collection are:
Cootie McKay's Nativity (Book One)

Captain Chaos and The Manger Blaster (Book Two)

The Stranger (Book Three)

The Bishop's Dream, (Book Four)

Harold Grubbs and the Christmas Vest (Book Five)

Gladys Remembers Christmas (Book Six)
There are 2 additional stories in the collection.
The Secret of the Snow Village (Book 7)

It's Called Christmas (Book 8)
We received all 8 audio books as digital downloads. After saving them to my computer I put them on my iPhone so we could listen to them in our van using the Bluetooth.
The stories range in length from about 15 to 30 minutes, which was a perfect length for even our youngest listener, at age 4, and also was the perfect length to get in one story while running errands or driving to a function. (Living in a city with significant construction makes for lengthy trips across town).
The first book, Cootie McKay's Nativity, takes place in 1956. This 30 minute story, told in the first person, is an delightful tale of a town's best Christmas and also the year they almost didn't have Christmas. The narrator tells of how a talented Cootie McKay saves the day by thinking "outside the box". I won't spoil the story, but this one really appealed to my 9 year old. When the story was over he immediately said "Mom!! Can we hear another!" - which is music to any momma's ears.
Book Two, Captain Chaos and The Manger Blaster, is fun 19 minute story about a 10 year old, "Jason", and his sister, "Martha Ann". This story was so relatable to my two oldest kids - big brother and younger sister, constantly bickering. Jason has a big imagination, just like my little guy. We hear of Jason being sent to his room for trying to change the manger story and here we hear of his unexpected visit with "Captain Chaos".
The Stranger, Book Three, is an 18 minute captivating story of Christmas Eve, where a town is feeling disrupted in it's cherished holiday routine as a stranger appeared in town during a big snow storm. As the town gathers for service they realize that the stranger has visited them all - all except for the family of 9 year old Sam Tucker. Why hasn't the stranger visited the Tuckers? If he does visit what will they do and what will they learn?
Book Four, The Bishop's Dream, is a 20 minute story set in Ancient Myra and a simple man named Nicholas. Nicholas was a Bishop who loved God and cared for the poor.
Each story is truly entertaining and a delight to listen to. We loved listening to these stories as we drove around town completing errands. My kids loved all 8 of the stories and they still ask to listen to them again whenever we are in the van.