One area I struggle with is to consistently have a healthy, well balanced, meal ready. This is especially so for the busy nights we need to be out the door close to dinner time, or are out until dinner time has arrived.
My poor husband was left to do more than his fair share of cooking, especially on the nights I had to run the kids around to programs that let out at 5:30 p.m. We were eating far to much of store bought freezer meals. The
MyFreezEasy.com Freezer Meal Plan Membership
from
MyFreezEasy
has helped me be consistent with putting a
home cooked
meal on the table each night, even on those busy nights.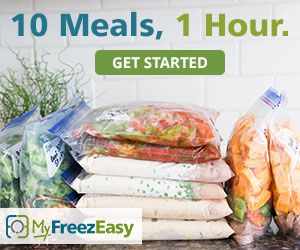 When creating meals, not all would be suitable for a freezer and not all would be quick to do. Erin Chase, from $5 Dinners, has done all the busy work for us and created for us a meal plan that will have us make up 10 meals suitable for our freezer that are quick and budget friendly!
You can either join as a basic member, paying monthly or annually, with access to eight new meal plans a month; or, you can join as a premium member and enjoy the flexibility of adjusting serving sizing and customizing your own menus, in addition to having access to the 8 meal plans.
How this works is you log in to the website and come to the member are. From here you have 6 choices
build your own meal plans from scratch or by exchanging recipes from within a set plan

download an entire plan from the 8 choices

view videos of Erin talking about the different plans and how to assemble them

access to resources and instructions

help on how to create your own meal plans

customer care center: change your password and update your payment info
There are 8 plans each month and 8 printable labels for each meal within each plan. Each plan has instructions to create 10 meals for your freezer.
Traditional Meal Plan

Gluten-Free Meal Plan

Slow Cooker Meal Plan

Clean Eats Meal Plan - great for the Paleo Diet or "whole 30", or those that just want to eat whole foods

20 meals Meal Plan - great to really get that freezer stocked

All Chicken - great to use when you find chicken on sale

All Ground Beef - great for when ground meat is on sale

All Pork Chops - great for when you find deals on pork chops
Each plan is a downloadable PDF that you can save to your computer and print off. The printables each consist of
Table of Contents - listing the 5 recipes (you make 2 of each for a total of 10)

Recipes - one per page; each has instruction for serving 1 now, or for making 2 for the freezer

Shopping List by Recipe

Shopping List by section, or category

Prep Day Shopping List (excludes sides)

Prep Day Shopping List by section, or category

Assembly Instructions - pre-cooking and chopping instructions

Instructions for Assembly by Recipe - preferable for those that want to do 1 recipe at a time
We shop weekly at a farmers market, and substitute in with Costco's bulk food purchases. As such, I chose to mostly use the Clean Eats Meal Plan, because we'd need to use up all those fresh vegetables as opposed to canned goods from a grocery. Plus, with a palm oil allergy there is often no choice but to act "whole 30". The Clean Eats Plan is the first I downloaded, then I decided I'd rather substitute in a few recipes to be sure to use what we had on hand already and to add in a fish dish.
Making your own plan can be down 1 of 2 ways. From the Members HQ you can simply click "Build Your Own Menu Plans" which you then will be able to adjust serving size and chose your own 5 recipes (remembering that each recipe makes 2 meals). Additionally, from "This Month's Meal Plan" there is an option to "Swap Recipes on This Month's Meal Plan". Simply dragging and dropping the recipes gets the job done. (I also love that you can email the shopping list to yourself and have an on-the-go paper free list using a smart phone). The meal plan swap is all further explained beautifully in the
video library
.
I ended up building my own picking and choosing from the Vegetarian Recipes, the Paleo/Whole30 Recipes, and the Seafood Recipes. I chose:
Black Bean & Corn Enchiladas

Lemon Dijon Salmon

Paleo Minestrone Soup

Slow Cooker Curried Chickpeas & Vegetables

Dutch Oven Italian Chicken & Potatoes
I printed off my shopping list and set off to Costco to get anything I didn't have on hand.


I chose to mostly make the recipes one at a time, usually making one for "tonight" and one for the freezer, because I have such a small kitchen (like 2 feet of counter space) and no dishwasher - plus I'm just so far gone in being organized with meals. This way I wouldn't overwhelm my tiny space, and I'd feed us all home cooked meals while stocking up the freezer for those busy evenings.
Upon starting to prep and assemble my chosen dishes, I realized most of them were SO easy to do that I did up 6 recipes in one night. In my tiny kitchen! Like seriously, the
Dutch Oven Italian Chicken & Potatoes was basically a dump and freeze - there is no chopping because it uses small potatoes and baby carrots. As an important side note, I'd like to add that I am SO glad I watched the prep videos because it was here I learned why we use the small potatoes and not cut potatoes.
The Salmon dish was another that was so easy to assemble with no pre-cook, as well as the Minestrone Soup. With the soup I just chopped veggies one kind at a time, added them to my bag and placed it in the freezer!
I don't like fish but I was instructed by a cardiologist that I need to eat more fish, mainly salmon. So I braced myself and made this dish. I loved it. And I loved that the sides were suggested to make it all the more easy of a meal.
The Slow Cooker Curried Chickpeas & Vegetables was awesome to put in the crock pot after church one Sunday and made enough to serve us plus some unexpected dinner guest (as a bonus our friend's baby was able to partake in this whole food meal!)
While on the topic of serving sizes, my husband made the comment that our chose 4 servings made "Texas sized portions". I laughed and said Erin is actually from Texas. (this is all a good thing and I love having leftovers)
I loved the experience (and the stocked freezer for the days I had to be away at dinner time) so much that we went on and created another menu with ground beef since we had purchased the Costco ground turkey. From there we made
Bolognese Sauce (a Clean Eats meal in the October Plan) and

Frito Pie. These each involve cooking up the meat, cooling and then placing in the freezer bag for later. This worked so well even in my small kitchen as I made one meal to eat "tonight" and then used the same pan to make up one more, after dinner, to put in the freezer.
I am so pleased with the experience and happy that we are saving money buy eating "fast" at home instead of fast food on our kid activity nights.

To see additional reviews of Erin Chase's FreezEasy Plans, click the banner below: