I remember being a young girl and being told what my name meant (honey bee) and why I was named that particular name (because my dad wanted a biblical name). I had found it so fascinating to know why I was named Deborah, when it was more popular to be a Debra. Well, actually it wasn't popular to be either in my generation, just that the latter was more favored. In my small world, surrounded by many Angela's and Sarah's and no Debbie's, it helped knowing my name was special and intentional.
In my family names were important and intentional. I remember my paternal Grandpa, some time after my Grandma passed, ordering name meaning bookmarks and cards for many in our family. Since that time the company,
CrossTimber
, has grown significantly and offers many unique gifts such as the
Personalized Framed Plaque with Name Meaning and Bible Verse.
CrossTimber was first established in 1994 as a professional graphic design and printing service. The company, owned by John Dehnart, has now grown to include name gift coffee mugs, plaques, and much more. Name meanings is his passion and if you have a question on your name or any name of importance to you - he is always more than happy to share that information with you, usually with a short little history lesson included!
Our little story
When I became pregnant with my first born I spent so many hours researching names, as many of us mommy's do, trying to find the best name full of love and meaning. I had so many rules. It has to be a strong name. It has to be a name kids can't make fun of easily. It has to have
meaning
. I took such care with his name that for 3 days of his little life he was named "Baby West".
In all the time I took to name my baby, I learned a few things. First, my paternal Grandmother must have took care just like I was trying to do because I learned that 3 of her children had nearly the same meaning. John, Matthew, and Timothy are all 3 biblical names that mean "gift of God" or "honoring God". Suddenly it made so much sense to me why my dad (Mathew, with one "t") took such care to name all 4 of his kids a biblical and meaningful name.
My "baby West" ended up with the name of Connor, because it was a good and strong sounding boy name that my husband insisted on for 3 long days. (I wanted Samuel). I didn't like the meanings I kept seeing, "hound-lover". He fears dogs. But he does absolutely adore his big cousin, Caleb ... which baby books say means "dog". So there's that.
In my talks with CrossTimber owner, John, I learned that Connor doesn't simply mean "hound-lover". Which is maybe a good lesson to leave the name research to the experts. John came back with this:
He who Seeks God's Perspective
"The wisdom that comes from above is first pure: then peaceable, gentle, submissive, full of mercy and good fruits, impartial and sincere. Peacemakers who sow in peace raise a harvest of righteousness." James 3:17
Being in Canada, I opted to choose a print as opposed to the framed plaque, due to shipping cost. John was gracious enough to allow us to choose 1 5x7 print for purposes of review, but I loved the meaning he found for Connor so much and so as not play favorites with the kids, I purchased two additional 5x7 prints.
The "hardest" part in choosing your name gift is choosing one of the numerous wonderful backgrounds. (tip: It helps to talk to John first and get the meaning of your chosen name, or go with the personality of your gift receiver).
From the drop down menu of NamePlaques I looked through the group of "Fantastical, Creative" and found one we liked - the first one, "Earth's Horizon". (and I found Connor as an example for "Space Stars" design!) Either one is a good fit for my Connor who loves to study Astronomy.
Next we have Emma, lover of all things pink. For her design I chose from the "Parchments & Simple" group and found "Pink Silks".
"Wholehearted, All-Embracing" fits this sweet little girl so perfectly! (and is much nicer than what I could find for her name meaning, on my own, which was "universal".)
Since we ordered 3 gifts each of the kids got a free bookmark too!
Last we have my Samuel. Sammy loves to point out clouds to me and to gasp in shock when there are no clouds in the sky (not too often in the Great White North). Under the "Oceans, Water & Sunlight" group we found a perfect fit with "Peaceful Skylights" as a background.
John truly is a pleasure to talk to and he is honestly more than happy to share his knowledge with you, free of charge. Even if you have a difficult name - or maybe you need a unique spelling of name.
Before deciding on my own 3 kids I had been considering my niece who's name is a unique mix of her parents. Kyra does have her own name meaning but she was named for Kyle and Rebecca. John was kind enough to share with me what "Kyra" would mean if considering her own unique story. (He also shared with me the meanings of Rebecca, Kyle and Kyra's own name meaning). Kyra, named for her two parents:
Kyra
From: Gaelic & Hebrew
From the Strait: One who walks the straight and narrow
United: Acting in Harmony with God's Leading
"The way of the wicked is as darkness, but the path of the just is as the shining light, that shineth more and more unto the perfect day." Proverbs 4:19
I had also considered my daughter's best friend as she has a unique name: Miela. This name wasn't in John's database, but he was kind enough to research it that very day and promptly email me back with his finds. I'll share with you a snippet of his exact response:
See? He's a joy to work with. Go ahead and ask him what your name means and then enter his giveaway!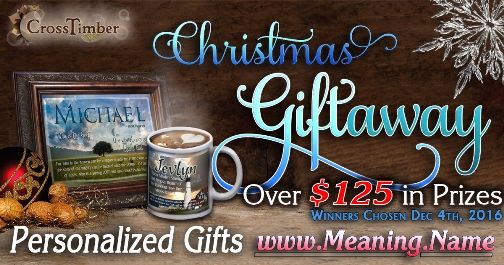 a Rafflecopter giveaway
To see what others on the Homeschool Review Crew had to say about Cross Timber, click the banner below: