Recently we have been supplementing our little homeschool with printables found over at
CHSH-Teach.com
. Christian HomeSchool Hub (CHSH) is a place where subscribers, for a small fee, can find all kinds of worksheets, notebooking pages, flashcards, planning pages, unit studies, posters for your centers, and more!
There's so much offered here, with new downloads added often. Most recently I've found two files that I immediately wanted to download and save to use in our school next week. Our youngest little guy is currently passionate about volcanoes. At only the age of free (three) he likes to sit and watch documentaries of volcanoes. So, I was pretty excited to see the most recent addition to the
CHSH Download Club
is "Parts of a Volcano - Geology Nomenclature Cards".
The other that I found just today a unit on Vikings. It just so happens that we are currently learning about Vikings as part of our history and geography and this 153 page unit is a perfect supplement to our study. In this document I've found worksheets, reading material, visual aids, puzzles, pages for notebooking/lapbooking, crafts, and even recipes!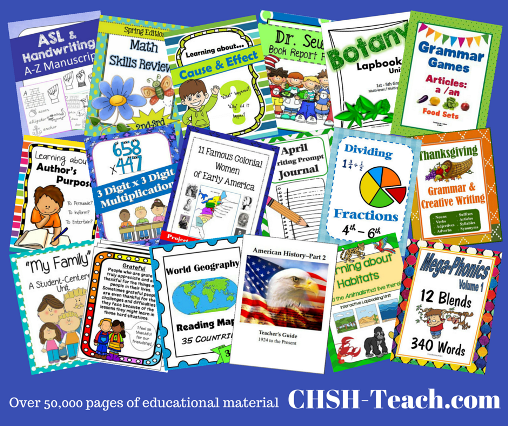 CHSH was created by a former public school mom, Lynda Ackert. Ms. Ackert left her job to stay home and homeschool. In 2010 she decided to use her gift as an educator and creator of educational material and share it to the public via the Christian HomeSchool Hub.
This site is more than just a place to find material for our homeschool. It is also a community were you can find support in the forums, or even share your own educational material with the CHSH Download Club.
At
CHSH-Teach.com
you can find a wide variety of subjects for all grades and seasons. You can find material for:
Bible - flashcards, verse memorization, notebooking pages, and more
Languages - Spanish, French, Italian, and American Sign Language
Arts, Music & Crafts - drawing instructions, music instruction in piano or guitar, knitting and more
Language Arts - help in writing, reading, grammar and spelling
Math - worksheets for all grades, visual aids (posters) and more
Science - worksheets and resources for many subjects, for all grades
Social Studies - resources for geography, history, economics, etc
Electives - architecture, character study, social and safety education, Jewish history
Health - dental health, general health, and resources for body systems
The site is organized really well for quickly finding whatever subject you may be looking for. It is first organized by subject (listed above), the by grades, by months (for seasonal content), organization helps, and finally miscellaneous resources.
How We Used CHSH
I have a 4th and 1st grader and a 3 year old. Upon receiving our Download Club membership I went straight to the Language Arts section looking for help for my 4th grader. He struggles with writing and penmanship so I like to give him little things to do daily. But in this section I got side tracked from finding something for him and found something for
me
instead: Create a Writing Center.
At the Create a Writing Center page I found lots of great information and ideas for creating our own little area to encourage writing. There's ideas of supplies to provide, suggestions of what to do with limited space and budget, and there's posters available to download as well as writing prompts.
Next I went up to the Bible Related Resources: Proverbs Copywork and basically downloaded everything there.
I had both my 4th and 1st graders using My Proverbs Copywork for Kids, a 14 page document with 1-3 Proverbs per page. Each of the kids worked at copying one Proverb about 3 times a week. It was perfect to assist our habit training theme for our first semester, which is Courteous Communication.
For my preschooler I found many things some of which we are currently working on and many that I saved for later (like the volcano nomenclature cards I mentioned earlier). My little guy loves all things with wheels (and also volcanoes even though volcanoes don't have wheels).
In the Alphabet section I found the
most
adorable Alphabet Train. This 30 page file has one letter per train car (one each page). I've printed this out on stock card and intend to laminate it and attach it to our wall going up the stairs from our homeschool room in the basement.
In the Numbers section we used the Numbers 0-10 Coloring Book to use with our Days of Creation bible study.
For my daughter (1st grade) she's most enjoyed the Read it Draw it Write it series (found in the Reading Resources Kindergarten - 3rd Grade). There's 4 books students can create
Life of a Ladybug

Life of a Frog

Life of a Butterfly

Seed to Flower
You can see that they fill out the pages, then cut it out, staple, assemble and they'll have a cute little book in the end!
There's also a similar resource (but much larger at 50 pages) for Community Helpers, called Color, Draw & Write I have downloaded to use with my littlest guy (there's even a volcanologist!)
I've even stumbled upon scans of books that came in very handy (and could have saved me money if I had found it sooner). One was A Child's Garden of Verses by Robert Louis Stevenson. I ordered a new copy of this book then found it here at the Hub. Even so, I downloaded the ebook so I could print off a copy of My Shadow, one copy for each of my kids to read on their own to memorize.
I think at $25 (American), per year,
CHSH Download Club
is well worth your time and money. There's something to be found for anyone whatever your style of teaching may be, or your age range!