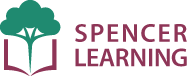 We have two readers in our home that I had thought to be pretty advanced for their age, thus not needing any help. I had them take the
free Reading Test
over at Spencer Learning. My fourth grader passed the test easily, so I moved on to my first grader. I haven't really spent a whole lot of time teaching her phonics because she reads so well. However, lately I have noticed that even though she can read well, her comprehension and accuracy were lacking. She didn't pass the K-1 Reading Test, making her a perfect student for remedial action that the
Ultimate Phonics Reading Program
offers.
What is Ultimate Phonics Reading Program?

Ultimate Phonics Reading Program is a downloadable software app that teaches students of all ages to read with accuracy and with good comprehension. This is accomplished by presenting all phonics sounds and rules in a systematic and direct manner.
Phonics decoding skills are taught up to the 5th grade level, ensuring that the students then are prepared to advance and decode on their own into higher grade reading.
How it works
This easy to use app has 262 lessons in total, with each lesson presented in 4 parts (shown below in bold). There are 6 types of lesson pages within those 4 lesson parts (shown below in italic).
First
the
pattern
or
idea
is presented; such as, a new phoneme or concept. Here the new sound is introduced or the new idea is explained.
Second
is a
word list
page. Here words are listed that have the new pattern or idea that was presented in part one.
Third
is a word page. The "word page" is different that the "word list page" in that each
word
or
sight word
is presented alone. Words are shown and then broken up by each individual sound. Sight words are shown as a whole, and should be memorized.
Fourth
, and finally, are
sentence
pages. Here the student will read a series of sentences that include the words from the current lesson as well as any past lesson(s).
Ultimate Phonics Reading Program is interactive. Hovering over any word or pattern will then allow the student to hear the sound or word spoken. Right clicking on any word will bring you to the "word page" type of lesson page. In the same, right clicking on any sound on a word page will take your student to the lesson of that particular sound or pattern. For example, if I clicked on "e" in sled, it would take me to lesson 9 to review the short "e" sound. Clicking the back arrow will take you to the previous screen.
Who is it intended for
Ultimate Phonics Reading Program benefits
young readers
struggling readers (of any age)
dyslexic students
ESL students
It really is for any age (yes, even adults) because it isn't disguised as a educational program within a game. It is strictly an educational tool with no bells or whistles. There is nothing to distract and nothing childish to embarrass or dissuade an older student.
This program can be used as a full phonics program or as a supplement. There is a handy search bar where you can look up any pattern or word that a student needs to learn, or needs help with.
So, for example, say that I am working with my youngest, who is just starting to learn sight words. We worked on "away" this week, and I can just click on "find", then "words" then scroll or type in the work I am looking for. (As a note, "away" is not one of the
113 sight words
that Ultimate Phonics teaches, because it can be learned phonetically)
How we used this program
I used this with my 1st grader, who as I explained earlier, didn't pass the Reading Test beyond grade K-1. We started off at the beginning, Lesson 1, just to be sure she didn't miss anything important.
I sat with her (although this could easily be independent work), and listened to her read word lists, words, and sentences. If she'd get any wrong I'd help her hover over the word to listen to it spoken.
What I noticed that I hadn't noticed ever before, is that she tended to add in words that were not there when she read from the sentence page. Or she would drop ending sounds when reading from the word list page. For example, she might say something closer to "ged" instead of "get". She also would add "uh" after many sounds, like "ruh" for the "r" sound.
With this program I was able to help her hover over sounds or words to help her enunciate and articulate correctly. She has also learned to properly break up (decode) words without adding to or slurring sounds.
This is an easy and straight forward program that my 1st grader happily uses, and will now become part of our regular schooling.
I would eagerly recommend this for any family with a young reader, or a struggling reader. Upon purchase, the program is yours to use for life, with free upgrades and no monthly fee! That's an excellent deal for what this program offers!
Too see additional reviews, of the Ultimate Phonics Reading Program, click the banner below: