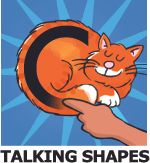 Not too long ago
we completed a review for
Talking Fingers Inc.
Talking Fingers Inc. is a company that produces unique software for a hands-on approach to learning literacy, where your hands do the "talking".
Talking Shapes is supplemental program that helps children ages 4-5 (or preschool to Kindergaten) learn to make that important connection that letters not only make sound but form words. This is done with 7 stories, with each story adding 6 new phonemes.
Children listen to the stories, about two fictional girls who invented the alphabet as a means to remember their stories to each other. Following the story the student learns to draw the new letters learned and then play games to connect those letters into 3 letter words. Later those 3 letter words your child has learned can be read in short sentences.
We have used this online program with our 3 year old. He hasn't had any formal learning yet, and while he might be a little young just yet I wanted to still try as I just loved our time with Talking Fingers Inc.
before
with our 6 year old.
One thing I'd like to note is that what
we
have access to is an online hosted version of Talking Shapes - intended to be used at a computer and supported currently only by the browser Firefox. However, there is an app of Talking Shapes
for iPads
! (This requires iOS 6.0 or later.)
Our 3 year old used this program by sitting on my lap with his little hand on the mouse with my hand guiding him. He'd only work for a couple minutes a sitting before loosing interest. (not because the program is boring or can't capture his attention, but because he's young at that's how young minds work). When he did use Talking Shapes with me, he would giggle and smile.
A Peek Inside the Program
Upon loading the online app, you come to a screen that shows an overview of all 7 books.
After logging in with your email and password (one email log-in per student), the program will jump to wherever your child left off at the last session. For us, being that my little guy is a on the younger side of the targeted ages, he couldn't advance past book 1 unless I did things for him, so we just clicked the (ancient) home icon found in the upper right, which takes you to a menu screen. We have a choice 1 of 3 activities. We can re-listen to the story, play again with the letters, or attempt the spelling game again. I do like this feature as we can just keep reviewing until he is ready to move on. And, in this same way (of clicking the home button) you could review competed books over and over again.
The first step to this program is listening to an animated story of Patrissa (Pat) and Natalia (Nat). The story is read aloud by a clear, easy to hear/understand, and friendly voice.

The next step is to "draw" the letters that the girls come up with. First they come up with a clever way to remember the shape.
Then your student is asked to "draw" the shape. This part I was quite pleased with as the "drawing" isn't precise and I'd describe more as painting the letter. No accuracy is expected, so for my little guy with his first time using a mouse I was apprehensive when we came to this screen - and was quite pleased he could "scribble" his way into filling out his letters.
As for the iPad app, I'd expect the same, that the child would fun his/her finger over the letter and fill it out in a "painting" type manner, not a like other apps that expect things to be precise and in order.
After learning 3 letters (the first ones learned are C, A and T) your child then forms his first 3 letter word. This was a favorite for my little guy. He loves to build and made cute little machine type noises as he built his words.
After 3 letters are formed to make a word, more letters are introduced for a told of 6 for book 1. (C, A, T, F, S, and H)
Here's a simple video to show how cute this part is:
After drawing the letters your child is asked to "drag and drop" the correct letters to form 3 letter words from the 6 letters learned.
My guy will only do one or two before wanting to go off and play again, but what really shocked me (in a very happy mom type of way) was he can correctly spell what is asked! Being he has not learned his alphabet yet, outside this program, I'm quite pleased. If he selects and drops in the wrong letter there is no rude buzz or wrong notification that is discouraging. The wrongly selected letter just jumps back to the top.
He did complete another word, "cat", but that is as far as we have gotten so far as he is going at his pace - which is 1 to 2 minutes, sitting with me, when I ask him to work with me on this. So it's taken us a month to go through the story, the drawing of the letters, the forming of the words, and now this selecting the letters to create the word to match the picture.
This is definitely not a fast paced, easily exhausted app. We haven't even completed book 1. So, I feel this is an app you'd definitely get your money's worth out of, and one that is not time wasted.
This is not an activity he asks for, but rather one that I have to be intentional about with him - which is fine! I don't allow my young kids time to play on our computer or iPads unless it is educational anyways. When I do get him to sit with me, he does like the program and smiles.
To see additional reviews of Talking Shapes, click the banner below: