Art has always been the subject that I love most, but also the subject that I find the hardest to teach. I'm a bit of a perfectionist, so when my kids set to work on a project I find it hard to not wrongly criticize them and smother their unique creativities. In order for us all to effectively learn and love art in our family, I have to have someone else oversee the teachings.
ArtAchieve's Entire Level 1 art class has eleven lessons, the first two of which are free to use. Purchasing a lesson, or an entire level, grants you access to the online lessons for one year.

The Level 1 classes are beginner classes, starting around Kindergarten and go up to adult.
Each lesson has 4 parts.
a PowerPoint lesson

a warm up page, to print

a video lesson

a printable example of the lesson
In addition to the instructions for completing the art project, each lesson has "Suggestions for Cross-Curricular Connections". These suggestions are found not under your account where you'll view the lesson instructions, but under "Art Lessons" then your chosen level.

Both formats, PowerPoint and video lesson, start out with a brief history of the given art project topic. The background information is followed by the lesson's supply and warm up page. With the warm up, your student does a relaxation technique to relieve any tense muscles, then is instructed to listen to some music, and finally to complete the given warm up printout. With the warm up printout your student copies lines to ready him/herself for the lesson.
After the warm up a set of "Rules for Drawing" are listed. These are simply put, encouraging reminders that were especially helpful for myself - being a critical overseer of my children in the past. A couple examples:
There is no right or wrong way to draw
There are no mistakes. If you draw a line you don't like, change it into a line you DO like.
These "rules" helped me move away from my harmful critiquing of my kids - even outside of ArtAchieve's lessons. My daughter (age 6) lives to draw and color and it is nice to now remind her to change her lines into lines she likes, which instantly relieves her frustrations.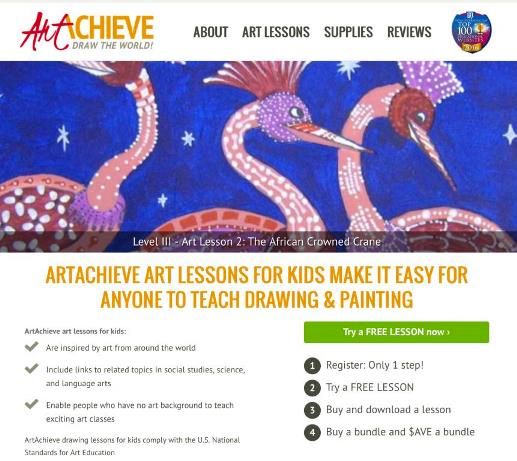 What the lessons look like
I'm going to use the free lesson of the Czech Cat from Level 1 to show you what each format looks like.
In this lesson the video is approximately 22 minutes long, and features the artist behind ArtAchieve, John Hofland. The PowerPoint has 43 slides, and carries the same content that is spoken by Mr. Hofland in the video. Each format is equally as useful, I'd say. The video adds a personal touch. You can see and hear a teacher. The PowerPoint is great for those that do better with written, as opposed to spoken, instruction. (Plus I consider it great reading practice for the younger students, ha!)
Each format takes the student step by step with drawing and ends with suggestions and picture examples of how to color and finish the project.
I have two students, ages 6 and 9, working their way through the lessons. They preferred the PowerPoint lesson format, so most of our completed projects where done that way. My kids get easily distracted with background noise (usually made by little brother), so having a silent self-paced lesson via the PowerPoint was excellent.
Our Completed Projects
My two students have completed 6 of the 11 lessons from the
Level 1
classes. My eldest is part way through lesson 7 - we just need to pick up some oil paints so he can add color to his Owl from Bali.
Lesson 2: The Czech Cat
I just love my son's detail. He gave his cat a beard! And check out that background detail!
My daughter loved hers so much she requested it be framed for her room.
Lesson 4: The Haitian Gecko
This shows that, while we did most of our lesson at the desk with the desktop computer, we liked to move around and do lessons using the iPad as well.
Lesson 5: The Dragonfly from Ecuador
Lesson 6: The Chinese Dragon

Not shown from Level 1 ArtAchieve:
The Hungarian Insects
The Owl from Bali
The Kitenge Tree Wall Hanging from Tanzania
The Plate from Nepal
Four Suns with Four Faces
The Sheep from Wales
Our Final Thoughts
I just love these lessons. They aren't
just
art lessons. With ArtAchieve your child also gets geography, science, culture, history and more with each lesson!
I love that each piece is unique to each little artist. The encouragement they get from the lessons is just amazing.
I liked that the lessons stayed with them throughout the weeks. For example, my daughter was drawing (on her own, apart from the ArtAchieve lessons) and she placed "planning dots" on the princess she was intending to draw.
My 9 year old's thoughts: "I thought they were really cool on how they did the instructions. And how good they (the projects) looked, and the ideas for the coloring. My favorite was the dragon."
My 6 year old's thoughts: "I liked the cat one best." What did you like about the lessons? "That we got to do backgrounds, and that I got to draw them in.
To see more reviews of ArtAchieve, including Levels 2 and 3, click the banner below: