For quite some time now we have been working with the learning method of unit studies. When I plan our unit studies I like to do so with an interest based mind-set. So, for example, what ever happens to be my child's current passion (within reason) we will study.
When you log-in to the lifetime membership all fears of being overwhelmed or confused are eliminated as there is ample opportunity to familiarize yourself with notebooking. There's an EasyStart Guide, Tutorials, Tips & Tools, Photo examples and videos, all of which are so very helpful!
Basically, any topic you can think of is offered here. There are beginner pages, with Alphabet copywork letter themes. There are Bible and Character pages, pages on Fine Arts, Geography, History, Holidays, Language Arts, and pages to notebook your nature studies! If you can find a particular fit for your needs, there are blank pages offered.
Simple. Choose a topic. The first topic I chose was for my 3 year old, because he needed something to do to occupy his time while I worked with big brother. I clicked on A-Z. Then I got crazy excited. Transportation! My little guy is all about anything with wheels.
Each section, or topic, has a catalog that you can download along with the notebook pages. That catalog is then used to as an easy glance sort of deal, to quickly see what all is offered in that particular group. Your child also uses the catalog to pick which layout s/he would like for the topic.
I download the catalog and then the whole Transportation Notebooking Pages package, as I knew we'd be using this often. (often was an understatement).
I chose the first layout each time the little guy wanted a new page, since he's just only 3. Then, he painted his little heart out, even with a sad little broken elbow.
He asked for these pages almost daily. So he painted, he colored, and we even worked collaboratively one day, making a work of art with a fire truck paper. I drew little stick figure West Family and he added color, "popsicles", and a mountain.
Next we have the sweet little flower picking 6 year old. Every day she was picking flowers from our back yard so I printed off some pages for her to document her finds.
These pages are found under "Science/Nature" - which is a large section! You'll need to scroll down past Anatomy, then several choices of animal groups, Astronomy, and more, before you find "Wildflower, Weeds, & Garden Flowers". There are 413 pages to this section alone! You have the choice to download individual flower pages or the whole lot. (I chose the whole lot). Way at the bottom of the PDF I chose a notebook page to print out.
I wrote "Backyard Flowers" on the blank title line. She colored her flowers and wrote the names of the flower (or weed) in the space provided.
Under Science/Nature > Animals > Mammals we downloaded the catalog so she could choose her topic and layout, and then we downloaded the whole mammal zip offered.
My 9 year old has had a passion for primates for about a year now. When I told him about our Notebooking Pages Lifetime Membership he practically begged me for a page for Orangutans. Not only did he complete a page, writing down all information he could remember, but he also scanned our printed copy of the Mammal: Table of Contents for any other primates. He completed them all in one day.
On the topic of his passions, he also has been obsessed with dinosaurs for at least the last 4 years. After he satisfied his need to journal about primates, he moved on to the dinosaur section of NotebookingPages.com. (also found under the Science/Nature section - we're a bit into science over here).
Currently, as I type this he's moved onto notebooking all he's been learning with his bible study, using the Bible/Character section.
We were reading Firefly Hollow as a read aloud and I wanted the kids to journal any bits that they were learning as we moved along. We opened up the Nature Study document again to access the section on Insects. The two top pages, shown below, are the 9 year olds and the bottom two are from my 6 year old.
I think it goes without saying that we not only used our Notebooking Pages Lifetime Membership, but that we also have thoroughly enjoyed notebooking, using a page (or 20) near to every day!
Do I think the Lifetime Membership is worth it? Absolutely! I don't know how we got by before without it!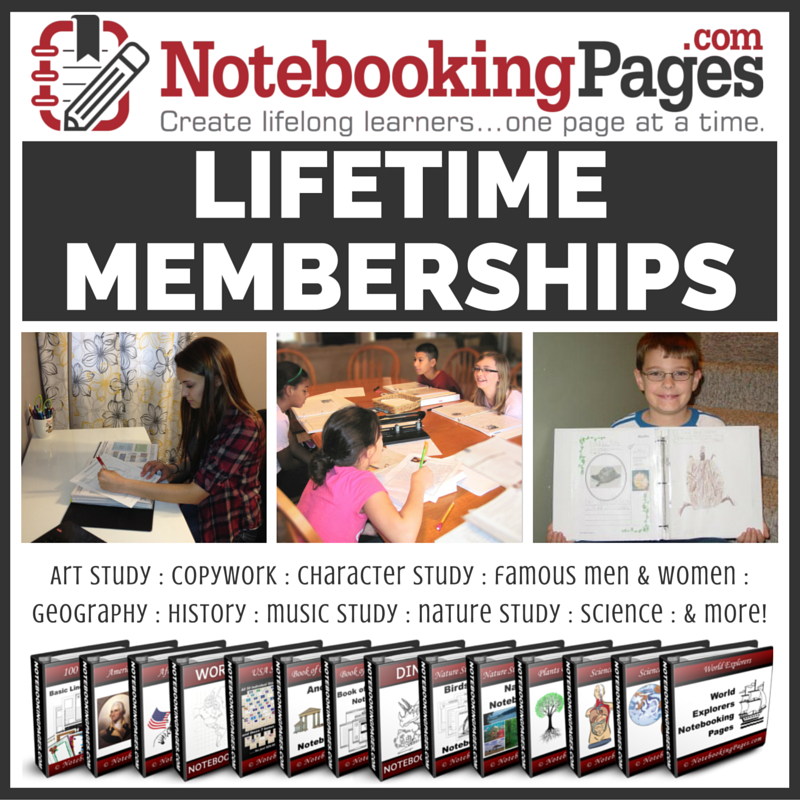 To see how others have used NotebookingPages.com in their homeschool, click the banner below: