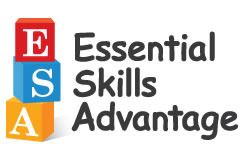 With ESA's Complete Home Learning Suite children in grades Kindergarten through grade 6 work on a variety of topics at their own pace. The students work on fun activities that engage them and hold their interest.
With ESA parents and students have separate log-ins. Whether the student(s) have to log-in with a password is optional. Personally, I decided to leave it open so that my 2 students could just click his/her name and enter in with no hassle.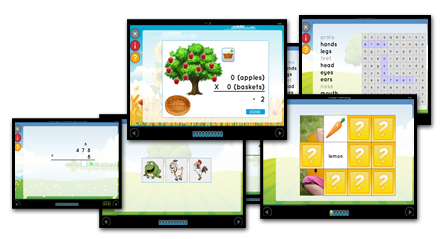 After the parent/teacher signs in, the "classroom" list is shown. Your student(s) simply click their individual login name and, if applicable, enters his/her password.
After login the student has five topics to choose from:
Reading: grades K-6

Language & Grammar: grades K-6

Math: grades K-6

Science: grades K-3

Geography: grades 4-6
Your student can choose any category and then subcategory and begin to have fun, at his own pace!With over 14,000 activities under these categories it will be impossible fro me to show it all so I will talk about just what we did.
We worked with ESA using an iMac and sometimes using iPads. My children are 9 and 5 and work at a 3rd grade level and Kindergarten level.
3rd grader:
My 3rd grader is my tough student. He doesn't like to sit still and do traditional work. (worksheets, a lot of lecturing, etc.). He likes things to be modern and he doesn't like to sit still for very long. He gets bored and frustrated fairly quick.

ESA worked for him because he could complete lessons quickly, see immediate results (his score) and then move on.
We mostly used the math section with my 9 year old as he is really in to learning his multiplication lately. With math there are 2 categories to work on with the 3rd grade level. Complete Math Grade 3 and Problem Solving Grades 3 and 4.
There were a number of categories to choose from.
Sometimes I would have him work on something new, but mostly I let him have fun with his multiplication. Here he would type in the correct number and press enter. When complete he'd be shown how the addition relates to multiplication. (he figured out how to make his numbers small and really was humored by that).
He can accomplish as much or as little as he wants and the program will remember where he was, if he choses to come back to this category.
In Reading, Grade 3, there are 18 categories to choose from. We worked on Reading Comprehension: Reading Group A.
Here he was asked to answer questions about the given story and was able to click the highlighted words to hear the definition if he needed.
By clicking the dashed lines in the upper right corner I was able to quickly see how his progress was thus far. (Parents are also able to access more detailed reports under the student profiles).
We also used the science section for 3rd grade. Here he had the choices of Physical Science, Earth and Space Science, and Life Science.
Here he sometimes ran into trouble with definitions, but we quickly learned about the handy little gavel icon in the lower right that will tell a bit about the lesson's vocabulary if he was confused again.
Kindergarten:
We also used this with my 5 year old. She is my easy student. She loves school in the traditional sense of worksheets and such. She does work that is given to her, with little to no complaint.

ESA worked for her because she loves to "play games" on our iPad and seen it as a reward for getting all her school work done. Guys. She seen educational activities as a fun reward. That's a mom win if I ever heard one!
With her we worked on Science, Math and Reading.
Under Life Science she worked on "Habitats and Adaptations" and then "Animals". The categories found with "Animals" were Naming, Comparing, Needs, and Life Cycles. Her favorite was "Riddles" found under the naming category.
She also loved the Reading section which offers activities for Readiness Skills, Sight Words, and Stories.
Under Complete Math Grade K-1 there is Numeration, Patterning, Measurement, Geometry, Data Management, and Probability.
All grades are open, which is perfect for homeschoolers as we are always working outside the expected public school grade. For example, my son works lower in math, but higher in anything else.

It was easy to set up on kid working on an educational activity with ESA for 15-20 mins while I had some 1:1 time with a sibling.

with over 14,000 activities to do, you really are not going to exhaust the program anytime soon. (in other words, you'll get your money's worth).
To see what the rest of the crew had to say about the Complete Home Learning Suite, and the different grades, click the banner below: