Around here science is a well loved subject. The only tricky part, for us, is to find science programs and books that do not confuse my son with evolution talk. (Not to say we avoid it, but that is for a different discussion at a another time.) We have found
Introductory Science
from
Science Shepherd
to be a wonderful fit in our homeschool, providing science instruction from a creation viewpoint.
Science Shepherd offers full science courses from an introductory curriculum to advanced biology and life science. The author of these courses is a fellow homeschool dad that holds a Bachelor of Science degree as well as a Medical Doctor degree.
What's Introductory Science, you ask?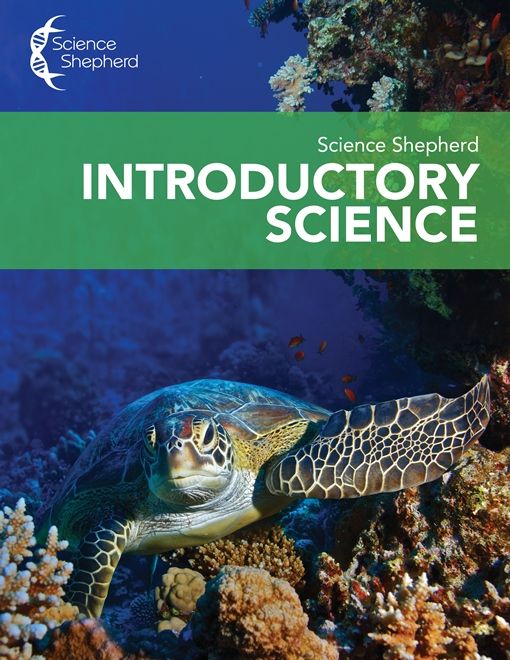 Science Shepherd's
Introductory Science
is a general science curriculum for ages 6-11. There are two parts to the course (plus an answer booklet for parents):
Video lesson and activities - hosted online

Workbook, either Level A or B - spiral bound workbook
The course is intended to be done every day (5 days a week) with 35 weeks of instruction, in total. The lessons are not lengthy at all, so 5 days a week is absolutely no problem.
There are a variety of topics covered in Introductory Science:
Creation

Science Skills and Tools

Earth Science

Life Science

Physical Science
How does it all work?
When you purchase a course you receive 1 year of access to online video instruction. These high quality videos are short while remaining very informative. Each video is about 2 to 5 minutes in length, which is perfect for the easily distracted younger crowd, or for the noisy house with toddlers and preschoolers.
All videos for the week are grouped together and found easily, as shown below with Week 1. Your child would simply click play and listen.
After your child watches the video lesson he/she then opens the workbook (a spiral bound book) to answer a few questions.
Inside you'll find:
multiple choice questions

fill in the blank questions

activities

puzzles

crossword puzzle review

instructions to a given video activity
The pages are easy to maneuver, with the labeling matching up with the videos (such as Week 8, Day 1). All answers to the questions are found in the Answer Key.
How did this look in our home?
We used Introductory Science with my 9 yr old, using the Level B workbook. Connor worked fairly independently with this curriculum, clicking play to watch the online video lesson then completing his corresponding questions in his consumable workbook.
The lessons were short enough that some days he'd work ahead, doing 2-3 lessons until he felt finished. This worked out great for the days we got busy as we didn't fall behind with the weekly scope.
He has completed up to Week 8 Day 1, which is actually
offered as a demo
.
Being the lessons are digital we were able to work freely wherever we happened to land for the day. Most days that was our work area on a computer. However I did enjoy the versatility of being able to hand Connor an iPad to have him work wherever we happened to be, whether that be the couch, his room, or at a community center with wifi.
"Activities" would be little extras given in the workbook, that are more about data collecting or hands on learning such as making a clay model of your favorite animal or drawing a picture. Connor chose to make an orangutan but added in zoobs to his creation.
"Video Activity" is better explained like an experiment, where a full video demonstration is given online. The instructions are also given in the workbook. On average I'd say there's about one video activity (experiment) a week.
One week we made a demonstration of a storm.
In the same week we also made an anemometer and learned there was little wind (other than human powered wind) that day.
Most recently we demonstrated a volcano eruption. 3 times. Because when you have 3 kids you have to do one per child. haha
We've done "eruptions" plenty of times before, but never with clay. Connor's model is a mini version as all his clay is in use and on display in his room with his creations. He had enough to spare to make a tiny volcano with a few extras he thought up on his own.
Did my son like it?
My son is a science
fanatic
. Science is his passion. As such, this Introductory Science course has been easy for him, and so far has acted as a review.
Even so
, he has loved every moment of it. Often Connor completes, as I had said, 2-3 lessons a day. Even though the topic is known to him, he has paid apt attention to Dr. Hardin speaking, enjoying the biblical perspectives that accompany the given topic.
When working in the workbook Connor was often giggling and stopping me with whatever I was doing to share with me the humorous choices for his multiple choice sections. They aren't all funny, but Connor does enjoy the ones that are.
Final Thoughts
I love Science Shepherd. I'd have to say is one of my favorite full science curriculum to date, as it doesn't take up a whole lot of time, and as such holds the child's attention.
All video activities are "mom friendly", read: things I have on hand or are easy to find in stores. With a preschooler in the house it is such a blessing to be able to perform these experiments alongside my eldest without having to worry about keeping the youngest occupied for too long.
Science Shepherd would be wonderful for:
those homeschoolers that have a child that dislikes science as the lessons are short and the activities are fun
families looking for a creation based science curriculum
families with younger siblings which can make science experiments tricky at times
To see additional reviews of this product and the others by
Science Shepherd
, click the banner below: