My oldest child (9) is far advanced in many subjects, but in math he is "behind". I say "behind" meaning just by public school standards, but on his own timing he is right on schedule. He can add, subtract and skip count somewhat; however, he had yet to make the connection between skip counting and multiplication.
In late February we had the chance to try out the digital version of
Times Tales
, from
The Trigger Memory Co.
In just a few weeks time he has already memorized all that this program has to offer and has passed the provided tests 100%. He and I are thrilled with the ease of learning and with his success.
Times Tales is a unique and creative way to learn the upper multiplication tables. Each number is represented as a character and when paired with another number character, an animated tale is told that includes the hidden multiplication answer.
The multiplication learned with Times Tales are: 3x6, 3x7, 3x9, 4x6, 4x7, 4x8, 4x9, 6x6, 6x7, 6x8, 6x9, 7x7, 7x8, 7x9, 8x8, and 8x9, split into two part videos. Part 1 of the video is for the upper 3's and 4's and Part 2 is for the Upper 6's, 7's, 8's and 9's.
Included in the
digital download
of Times Tales are two videos, Part 1 and Part 2, and three PDFs which contain a crossword for each video, several sets of flash cards, a cube game, tests and an answer key. Each video takes about 30 mins in total to complete, after which your child would practice, play games, and take the tests. It is suggested that your child learn part 1, and then spend one week practicing with the provided printables before moving on to part 2.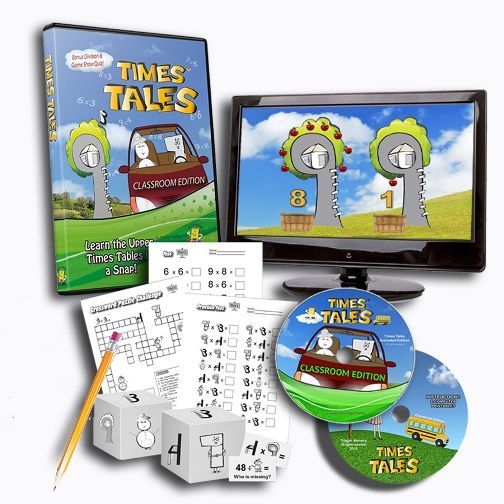 There are 7 steps to Part 1 and 6 Steps to Part 2. Part 1 and Part 2 have the same steps except for "Meet the Characters" found at the beginning of Part 1.
Each part is about 30 minutes time, in total, but isn't done all in one sitting. The timing depends on the needs of the student and how much review and practice he/she needs. For my student, we did 1 to 2 steps a day until Part 1 was complete. We then took a week of practice as suggested and carried on with Part 2, doing 1 to 2 steps a day until finished.
The steps are as follows:
Meet the Characters (found only in Part 1) is where the characters are introduced and important notes are made such as: Mr. Week is only ever seen with Mrs. Week. After the characters are introduced we are presented with the first of several Times Tales Game Show: Beat the Clock. For this segment your student attempts to name the characters before the time runs out.
Learn the Stories: here we are told the story for each multiplication problems of the uppers tables. The tales are first shown in a story book, with a written and spoken sentence. This is followed by a short animation of the same tale and again the tale is repeated, for a final memory trigger, as we go back to the storybook.
Story Quiz is the next step where the student(s) are presented with a Times Tales Game Show: Beat the Clock. Students are given 3-4 seconds to answer questions about the tales they have just learned; such as: What did the Treehouses grow and how many each?
The next step is You're the Storyteller. Here the child tells back the story by pausing the video when prompted, saying the story, and then un-pausing to check his/her answer. The characters are presented on the right side of an open book and the answer is presented on the left.
Now it is time to Practice the Flashcards. The student is once again asked to pause the video at the prompt, say the answer to the flashcard shown, and then up-pause to check answer. The flashcard is presented with the characters, then the answer is shown as the regular number format.
Next is Flashcards. This step is different in that it is another Times Tales Game Show: Beat the Clock. Here the characters are replaced with regular numbers and we are asked to say the answer before the time runs out. After the multiplication there is a Division Challenge where students are asked "what is missing?"
My son panicked a bit at the Division Challenge as he has never (at age 9) been presented with a division problem before. I paused the video, even though there wasn't a prompt, and gave him more time to think about it and as he'd answer I'd un-pause for the answer. The look on his face as he realized he could do the Division Challenge was priceless.
Final Step! Written Test. In this final step your student is congratulated on a job well done and asked to practice with the printables and take the practice and final written tests.
We gave this a try because my son's reluctance to do math has him behind his neighborhood friends. Where he's still learning addition, they've moved on to multiplication and were keen on letting him know how little he knew. I wanted him to have a good confidence boost with a fun and encouraging time at learning his times tables and
Times Tales
has certainly fulfilled that desire.
My 9 year old learned his upper times tables quickly - I'd day about a week for each Part - and he learned them with 100% accuracy. He was so pleased with himself when he gave me his first written test and they were all correct. His first time!!
I asked my son how he liked Times Tales and his answer was this: "pretty good! At first I thought it was really easy because it was only videos, and then it got a little harder because we have to say what is missing in the tales; but, when you say [what's missing], it's the answer! Such as 7x8 is 56!! And you have to go through a first level which is easy. And 2nd level which is only a little harder. It was fun and a neat way to learn."
To see other reviews of Times Tales by Trigger Memory Co., click the banner below: