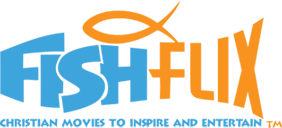 FishFlix.com
is an online seller of Christian movies. On the website you will find many categories and sub-categories to fill your home with wholesome video entertainment and education; such as, Apologetics, Biography, Children's Movies, Documentaries, and Music Videos, to name a few.
Within the Children's Movies section of
FishFlix.com
you can find all 5 volumes of the animated series called Theo. We have been reviewing
Theo: God's Love
, the first volume in the
series
.
Theo is a Godly, grandfatherly man, who lives in a quaint country cottage, which is also inhabited by two mice that listen in on Theo's lessons of Christian faith.
In my opinion, if Cinderella had a Grandfather, Theo would be a perfect fit as he's always so joyful and singing to a bird friend and he even has friend mice.
Theo: God's Love; Volume 1
The first volume of Theo contains 3 lessons:
Saving Faith
Loving Obedience
Forgiveness
Each lesson has the same general format.
First, the lesson opens with Theo singing the chorus to an old hymn that correlates to the lesson, such as, "Faith of Our Fathers" for Saving Faith. While he sings and talks to us he is busy at work tidying, picking apples or some other busy work. He then greets us (the viewer) directly and talks a bit about the lesson's topic, while his mice friends, Belfry and Luther, get into a bit of mischief.
From there Theo narrates an animated example of the topic that applies to our real life; such as, the old 'faith' that the world was flat, and other examples of false faith in real life.
After discussing a real life example we go back to Theo, who then shows us his Shoebox Bible Theatre. The Shoebox Bible Theatre is a delightful animated paper puppet show, that tells a bible story correlating to the lesson, such as the story of Abraham for "Saving Faith".
When the Shoebox Bible Theater is over we are brought back to Theo, who concludes his teaching. Finally, we are taken back to Belfy and Luther continuing with their misadventure. Having listened in on Theo's teaching, they see the err of their ways and apply it their situation.
Bonus Materials
Included with the DVD is a bonus lesson titled "The Good News". This is a 5 minute lesson from Theo on what it means to be a Christian and the salvation found in Jesus.
Also included is a Parent's Guide. In this guide you'll find a 3 week family bible study - 1 week per lesson. Each week's study includes:
Scripture References
Discussion Questions
Family Activity
Summary and a Closing Prayer
6 days of Nightly Devotional
How We Used Theo: God's Love from FishFlix.com
We watched this DVD as a family, with children ranging in age 3 to age 9. The kids liked Theo so much they didn't want to watch just one lesson at a time spread over 3 weeks, so we always watched all lessons regardless of where we were at in the bible study. The animations are all great and I liked that there were different types of animation for each part of the story.
The topics were all great and I do feel that kids did understand some bigger topics with Theo's explanation, like what it means to have faith or what it means to forgive.
From the Bible Study they enjoyed the activities as the lessons are short, fun and engaging.
Giveaway:
FishFlix.com
is hosting an awesome giveaway. All you have to do is
join their email list
and you will be entered into a drawing. The prize is
5 movies
from their e-store! You'll have a chance at winning
Owlegories 2
,
The Ultimate Gift
,
My Son, My Savior
,
Superbook: A Great Adventure
, and
The War Room
.
To see other reviews of several Christian movies from
FishFlix.com
(such as the ones in the giveaway - and more) click the banner below: