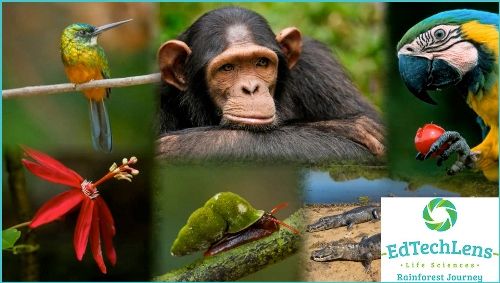 For the past year my eldest has had an unquenchable thirst for knowledge of all things orangutans; and as such, learned that they live in a very specific area of a very specific rainforest. When he read all books our library (kids) section had on the subject he decided to broaden his horizons to all primates, declaring himself a primatologist - he even went as an orangutan for Halloween.
I began to try to guide him in learning more on the habit of orangutans, and of other rainforests, when we learned about
Rainforest Journey
. Rainforest Journey is an online life science program, created by
EdTechLens
, for grades Kindergarten through 5th grade.
EdTechLens
EdTechLens is a company that strives to make appealing and accessible content for elementary children. "Ed" stands for "Education", "Tech" for Technology", and "Lens" (for what I'm assuming) camera lens. All photos and videos are genuine, on-location, videos of professional quality. The imagery is just nothing short of stunning.
Rainforest Journey
Rainforest Journey is a year long supplemental
online science program for kids
. EdTechLens aims to be inclusive for all students and once we got into the program I can certainly see that it truly is for every student. Whether your student(s) are special needs, behind in reading, doesn't read, has English as a second language, and/or accelerated students, this is an excellent program.
There are 5 Units of Instruction
The Big Picture of the Rainforest
Adapt or Die!
Animals
Plants and Fungi
Ecosystems
Within each unit are Chapters, which then contain the Lessons. In total there are 34 lessons.
The content is presented in little amounts so as to not overwhelm any student. First is always a spectacular photograph (or two) followed by a short passage.
Above is an example of the bottom of Chapter 1, Lesson 1 for Grade 3. In bold you have a short passage the student can choose to read. In green is a vocabulary word that, when hovered over, shows the definition. The first icon, the blue magnifying glass, is then clicked to read more, where you then have the option to click a volume icon to hear a pleasant sounding woman read the passage for you. My son is an accelerated learner and he always opted to click the icon to hear the passage while he looked at the stunning photography.
When the student is ready he/she moves on to the Enrichment and clicks there to read more. Here one might find more vocabulary used in a passage, a short audio of the rainforest, a quick video, or a peek into the life of a real scientist in the field.
Each Unit has it's own set of vocabulary, illustrations, hands-on activities and student assessment. The illustrations can be downloaded into a PDF and printed. I found these useful to print and put up on the wall next to my students work area so they could see, in illustration, the levels of the rainforest floor or the water cycle or whatever topic they were working on. The lessons are ended with a printable Lesson Review.
Teacher and student(s) have separate log-ins. Under the teacher log in you have access to each grade level you have purchased, which shows you:
Course Outline: This gives you a layout of all lessons. You can remove any you wish, or look over any lesson you wish.
Manage Class: Manage Class - change your student to open or guided access, change passwords, change the class name, etc. Manage Students; Class Overview; View Progress; Quiz Results.
Teacher Resources: here you will find Teaching Guidance, Course Materials (for printing), and Support. If a student is working on a device not connected to a printer, the teacher can still go in to this section and print off any review sheets needed.
Teachers also have alerts in the upper right corner to draw our attention to any assessments the student has completed that needs grading. There are 3 parts to the assessment (one assessment per Unit). Depth of Knowledge, Open Ended Assessment, and Factual. The first and last are multiple choice and the Open Ended is typed (or written) and to be graded by the teacher.
How We Used the Rainforest Journey
We used this with a 3rd grader and a Kindergartener, working mostly on an iMac, but sometimes on an iPad. They each have the same 5 Unit Outline. My 3rd grader had about 3 passages to read, watch, and/or listen to before moving onto the next Lesson or Chapter. The Kindergartener had 1 passage to work through before printing off her Lesson Review and moving onto the next Lesson or Chapter.
The Lesson Reviews for my 3rd grader were fill in the blank or write an answer type of work. The Kindergarten level (as expected) was much easier. She'd sometimes have a fill in the blank worksheet, but with the correct word prompted for her. Usually the review asked her to make a drawing of a topic she learned.
They both love this program so much that they are constantly calling each other (and me) over. "Oh! Come quick you have to this photo/video!" This was also true for the hand-on activities where they'd each want to be in on the other's work. For example, for 3rd grade we were playing a game of (plastic) insects hiding in plain sight and this was great fun for the whole family for at least an hour. In Kindergarten we were helping playdough insects not get to hot or cold and they all played at this for hours.
Final Thoughts
I feel like even thought this is a lengthy review, I still can't convey the awesomeness of this program. There is a lot of information but that by no means, suggests it is a complicated program. It is
so
user-friendly. The kids just absolutely love it, and the imagery is astounding. The kids were not overwhelmed even once, whether reading or listening to a passage, viewing a video or writing up a lesson review. All lessons went over so smoothly and the hands-on learning was a huge hit.
I think this would work with everybody. Public school, homeschool, special needs family, single kid families, multi-kid families, reluctant readers, excellent readers - just everyone!
Definitely stayed tuned with EdTechLens as they have their 2nd and 3rd programs in develop. Currently there is an awesome
Special Offer
that anyone new to EdTechLens should look into.
For more reviews (and peeks into different grade levels) click the banner below: