We have been preparing for Easter by studying the resurrection with
Grapevine Studies
. We have worked through two studies now and the kids have loved learning with stick figures and the same can be said of our current review of
Resurrection: Multi-Level
.
With Grapevine Studies children learn the gospel as they hear, read, draw and review scripture. The drawings are simple stick figures that help them visualize the passages. All this is done in as little as 15 minutes a day.
Grapevine Studies are flexible, leaving you much choice in where you'd want to begin or where you'd like to continue. The studies do not build upon one another, leaving you open to pick and chose your topics. You could choose topical studies such as Biblical Feasts, Esther, or Ruth. You could study chronologically starting with the Old Testament. Additionally, you could chose to study to correlate with the season, like Birth of Jesus for Christmas - or like we have chosen, The Resurrection for the Easter season.
Offered are a wide variety of levels to chose from, ensuring there is something for all of your students. Choices include:
beginner levels, for JK and Kindergarteners

traceable for beginners at level 1

leveled studies for students in grades 1-8
For more details on how it all works there is a wealth of information, sample lessons, and help on the website as well as in the free downloadable
catalog
.
click for larger image
All you need for a study session:
bible

Grapevine Studies teacher manual

Grapevine Studies student book

colored pencils -

eight colors are used to teach: purple, red, blue, brown, black, yellow, orange, and green

bible atlas

bible dictionary

white board (for the teacher) - we've used a chalkboard successfully as well

dry erase markers (or chalk if using a chalkboard)
About The Resurrection Study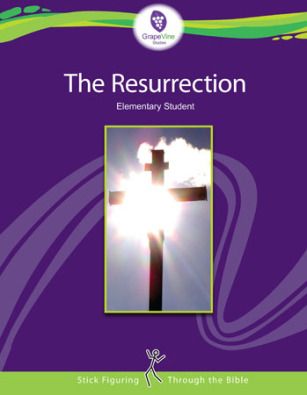 The Resurrection study comes in a spiral bound book or as an eBook, downloadable from the website. The one we have been using is the digital Multi-Level which is the teacher eBook, student eBook and traceable eBook.
This study takes your children on a walk with Jesus. Starting with the Last Supper, the student(s) draw their way into the garden where Jesus prayed, through the six trials and the crucifixion, ending with the Jesus' resurrection, and finally the witnesses and ascension.
In total there are 11 weeks worth of lessons, if you schedule yourself weekly, or you could choose to study daily making it 40 daily lessons.
Within the Teacher eBook you'll find extra information such as:
the Grapevine Mission

the Grapevine Teaching Method

the Grapevine Statements of Faith

Teacher and Student goals

suggested scheduling options

teaching tips

scripted teaching lessons
Each week's lesson starts and ends the same:
Timeline and memory verse review

Bible stories and stick figuring

Lesson review questions

Student drawing and memory verse
Within the lessons your student dive deeper into understanding the story by looking up given words in a bible dictionary and labeling locations on a provided map.
How we used The Resurrection study
We have been stick figuring our way through The Resurrection with two students, ages 5 and 9. My 5 year old has been using the traceable lessons and the 9 year old uses the student version. The only difference between the two student books is the added traceable drawings.
As for myself, I have downloaded my teacher eBook onto our iPad so that I can access it wherever we happen to be for a lesson. I have printed the kids' student eBooks off and filed them into a little folder so they have a way to keep their drawings when we finish.
This is a very somber topic, but such an important topic to understand as Christians. We are currently finishing up lesson 5 of the 11 lessons and so far we have been so blessed with this stick figure journey. I love watching my eldest as he learns and begins to understand the depth of the topic.
I really love the flexibility of the lessons. We started out with daily (4 days a week) lessons which was nice for our life with a busy and loud toddler because the lessons are shorter. We had to switch to weekly lessons, completing a lesson in 1 or 2 days as our schedules got busier.
My 5 year old loved to be able to trace her stick figures and not feel as if she couldn't keep up with her big brother. My 9 year old enjoyed the freedom of making his own stick figures unique, adding in extra details such as giving Jesus a beard.
Grapevine Studies are an excellent way to disciple your children in a fun and engaging way whether it be used in home, in a co-op or in a church.
To see the rest of the crew's reviews on the New Testament and of The Resurrection, click the banner below: