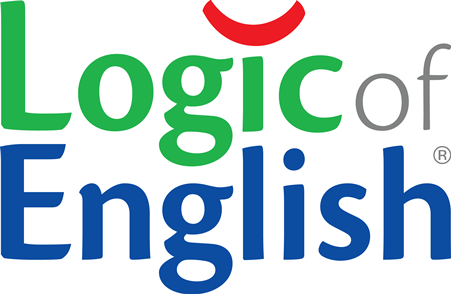 My eldest (now 9) has been an avid reader and a decent speller since he was about 6. While he doesn't struggle with language arts we have always had a hard time finding a curriculum to fit his needs. Recently, we have been trying out
Essentials 2nd Edition
from
Logic of English
.
What is Logic of English?
Logic of English is a company that specializes in language arts curriculum for
struggling readers
and children that use English as a second language. With the idea that children learn in different ways (kinesthetic, visual or auditory) and at different speeds, the
Essentials
book is written to meet the needs of each child, whether in a classroom or in at home amongst siblings.
Essentials 2nd Edition
The Essentials book is a spelling, reading and grammar curriculum for children ages 7 and up. This 2nd edition has
three
different spelling levels all in one package.
There are 15 scripted lessons; and, in addition, there are 10 scripted optional pre-lessons. Each lesson is intended to be completed in one week, with a 5 day a week pacing. However, the days are segmented in such a way that pacing is quite flexible for your student(s).
When working with my 9 year old we started off in the pre-lessons just to get acquainted with the system. There are so many details and this book is so incredibly thorough (in a good way) that it took me a couple sessions to learn the rhythm and to not feel like I was pausing every 30 seconds and losing the attention of my son.
What comes with the 2nd Edition Essentials, Volume 1?
There are 13 items that come in the complete package of Essentials, Volume 1, all of which we have received and have been using.
Teacher's Guide, Volume 1 - scripted lessons
Student Workbook, Volume 1 (consumable) - perforated worksheets that include all 3 levels
Spelling Journal (consumable) - this is a place to organize words by sound as you learn different rules for phonograms.
Spelling Rule Flash Cards
Phonogram Game Tiles
Advanced Phonogram Flash Cards
Morpheme Flash Cards
Phonogram Game Cards - Bookface
Phonogram Game Cards - Cursive
Basic Phonogram Flash Cards
Grammar Flash Cards
Spelling Analysis Quick Reference
Phonogram & Spelling Rule Quick Reference
There is also an Optional Essentials Reader Set to go along with the Essentials package. In this set is the
Essentials Reader
, an
Essentials Reader Teacher Guide
and
Essentials Reader Student Activity Book
. These are PDFs designed to accompany the Essentials book and give extra help to older struggling readers or students with dyslexia. It includes 30 "high-interest" texts. Topics such as sports, biographies, fun poems and more.
The lessons in the Essentials Reader are intended to be done
along with
the lessons in the Essentials book. So lesson 1 of the reader should be done after lesson 1 of the Essentials book, as the activities and such in the reader build upon what was just learned in the Essentials lessons.
The Essentials Reader Teacher Guide provides notes and activities such as pre-reading, post-reading, handwriting and composition, and extensions along with cross-curricular activities.
The Essentials Reader Student Activity Book provides printable worksheets such as that for writing (both manuscript and cursive) and other activities.
So how does this all work?
The introduction to Essentials teacher book is 43 pages long and is chuck full of so much helpful information. To name just a few, you'll find a Scope and Sequence, information on how to teach phonograms, detailed help on how to teach spelling analysis, help on creating your schedule - and even help on how to organize all your cards!
The next 50 pages of the teacher book has a Placement Test and the 10 Pre-Lessons. This is where we spent a good solid 2 weeks of time. My son doesn't struggle, but we spent a good chunk of time here, as I said before, to get familiar with the set up and as a refresher for phonogram sounds. We both actually needed help with some phonograms. The Pre-Lessons had us playing games, I think, every day, which was great fun for a kid reluctant to begin any language arts learning. He had a couple weeks of learning that not all English lessons are stuffy and boring. I mean -
games
!
The lessons are organized by days, which are then segmented by numbers. So, for example, Lesson 1, Day 1 has 1.1 through 1.3. You could do all 3 segments, or like we did, do a segment a day. The pacing is slower but saved my son from total meltdowns. Sometimes we'd do 2 segments, sometimes just one, depending on how much time had passed and how his (or my) attitude was.
Each lesson follows the same 5 day pattern:
Day 1: Essential Concepts
Day 2: Building Words
Day 3: Words in Context
Day 4: Words in Action
Day 5: Check Your Understanding
Throughout the scripted lessons, sometimes the student is listening and learning with the cards: learning a new phonogram, morpheme or spelling rule. Sometimes there is a little green book icon, prompting him to open his workbook and complete a given page. Sometimes it's a game on white board or with the cards or in the workbook. There is a nice variety to this curriculum.
My Thoughts
The variety was really beneficial to us as my guy gets frustrated (bored?) easily. Not because he struggles but because he hates sitting still. He loved the games and he loved the different aspects to this program that was in no other program we've done so far, like underlining in different colors and using a highlighter in his student workbook. He liked the dictation and it was a welcome relief for him compared to writing.
I like that there is a quick reference card for the spelling analysis. By lesson 2 I was getting into the rhythm and doing much at remaining fluent for Connor, using the card as a quick guide to the steps. Plus, it makes for a handy bookmark.
I did like methods used to teach the sounds used for spelling. While I used the program with my son, not my daughter, I did find that I used methods learned, to teach her how to spell words she was working on, on a different program. For example, she was having a hard time figuring out how to spell "kick" so I said, "Use the tall /k/ and then two letter /k/".
I liked that concepts are explained. Such as why a vowel is a vowel or why certain prefixes or suffixes are used. I felt like it satisfied the constant "but why" we can get from our kids.
To see other reviews on Essentials 2nd edition as well as Foundations for the younger students, click the banner below
: