Last year the kids and I briefly used
GrapeVine Studies
as part of our bible study lesson. I had only purchased one unit with 10 lessons and when it was over my oldest was upset because he wanted "more stick figure learning." When the opportunity came up to review GrapeVine Studies the kids were
so
excited!
We received an eBook of
Birth of Jesus: Multi-Level
(also available in a hard copy book). We received the eBooks for Multi-Level (ages 7 and up) and Traceable (ages 3-6) as well as the Teacher eBook.
What is GrapeVine Studies?
GrapeVine Studies is a bible curriculum and study tool, that helps students learn God's Word and memorize scripture by reading the Bible and then drawing what they've learned in colored stick figures. Choices are for either topical (Joseph, Esther, Ruth, Moses, Birth of Jesus, and Resurrection)or chronological studies from the Old and New Testaments of the Bible.
There are a lot of choices for topics, and 5 levels to choose from, which can seem overwhelming, but the GrapeVine website is very well done and offers many visual "helps" to get you started. For starters, there is a very nice
20 page catalog
you can download for free and read about each item offered. If you want something quicker to help your decision making, there are a couple handy charts.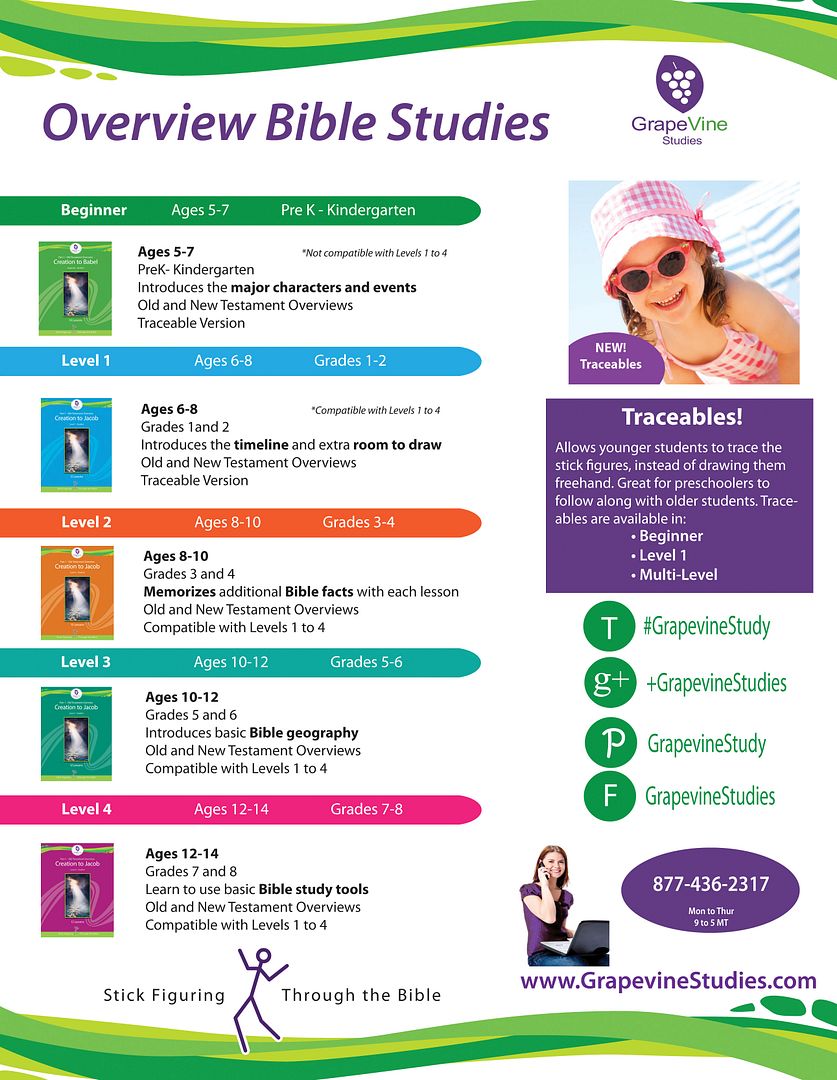 click to view larger
More about the Topical eBook, Birth of Jesus: Multi-Level
The Birth of Jesus takes students on a journey to know and understand the events that surround Jesus' birth, beginning with Mary in Nazareth, and the journey that takes her from Nazareth and back again, with Joseph and the Messiah.
Things needed that are not included in the eBooks:
Bible
colored pencils for students
dry erase board
dry erase markets in 8 colors (red, orange, yellow, green, blue, purple, black and brown)
Bible dictionary
The students learn by listening to a Bible passage, then drawing stick figures that show the story they've just heard. The lesson is completed with a review, scripture memorization and a question/answer session.
Included in the study is mapping of the journey and vocabulary words that students are asked to look up in a Bible dictionary.
The Teacher book has thorough notes of what is being covered in each lesson. These notes may be read aloud or you can use your own wording for discussion. Also included are the fully drawn stick figure stories, in color, to be drawn by the teacher and copied by the student.
How we used this in our Homeschool
This Bible study can be used as a daily lesson or a weekly (once a week) lesson. We used it as a daily study. Because I have the eBook version, I downloaded the Teacher eBook onto our iPad so that I could open in iBooks as a portable, printer free, way to teach the lessons. For the kids' books, I printed and hole punched what they would need and put it in a folder so that they everything stayed together and they could keep it after the lessons were complete.
The study begins with a timeline overview of the entire study before starting with the lessons.
Here is what Day 2 looked like for us:
We used this with an 8 year old using the Multi-Level student eBook and a 5 year old using the Traceable Student eBook
The study begins with "The Announcement". I read from Matthew 1:1, 17, and we discuss using the teacher prompts and then we draw our first stick figures. I write 5 vocabulary words on our chalkboard and we look them up in our bible dictionary.
We read from Luke 1:26-27 and discuss and draw our second set of stick figures.
We read from Luke 1:28-33 discuss and then draw, completing our lesson for the day.
Day 3 would be the same, bible reading, discussing and drawing then ending with questions. The answers are provided in the Teacher eBook.
Day 4 the kids would draw what their favorite part of the lesson was and they would recite or write their memory verse.
This pattern is repeated for 5 weeks, with the occasional addition of a locating a biblical city on the map provided in the eBook.
Final Thoughts
The pacing of using the daily schedule worked out great as it wasn't too long of a lesson for young learners. We really loved the multi-sensory lessons to learn more about the Birth of Jesus.
Emma (5) really loved being able to feel confident in "keeping up" with us, having a traceable stick figure story to complete.
Connor (8) really loved the freedom of making a unique to him stick figure, frequently asking to add in things that he heard in the story but that were not in the stick figure pictures I drew for him on the board.
When we got to the end on our lessons, after 5 weeks, both kids were sad and wanted to know if we could do more.
We'd recommend this for any Christian home looking for a fun and engaging way to help your little ones grow to know and understand the Bible. Having them draw the story really helps them commit to memory.
To see the rest of the crew's reviews on the
Birth of Jesus
and of
Creation to Jacob
, click the banner below: