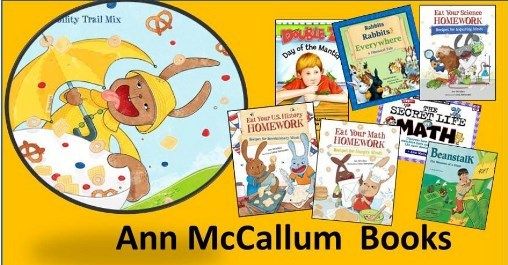 If you asked my oldest son what his least favorite subject in school is he would say, with no hesitation, "
Math
!" Math has long been a struggle for him, and for me as his teacher. Likewise, if you asked him what his most favorite subject was he would, with no hesitation, say, "
Lunchtime
!" Granted, mealtime isn't a school subject, but to him it is the single most anticipated hour of the day.
Recently we have had the opportunity to combine his least favorite and most favorite subjects with a super fun series from
Ann McCallum Books
. For review, we have received one book by author Ann McCallum, in which I asked my son to
Eat Your Math Homework
!
Eat Your Math Homework!?
In this 48 page book you will find incredible hands-on math "assignments" that your student(s) can eat when they are finished. The math learning starts with the book's introduction. Here you learn a given your first math vocabulary word, emphasized in bold letter type.
Next is kitchen tips where the student(s) learn kitchen safety and a few tricks. Following the kitchen tips are six recipes for various math projects, labeled for difficulty of easy or medium, and estimated time it will take.
Fibonacci Snack Sticks - easy; 15 minutes.
Fraction Chips - easy, 10 minutes.
Tessellating Two-Color Brownies - medium, 20 minutes.
Milk and Tangram Cookies - medium, 45 minutes.
Variable Pizza Pi - medium, 25 minutes.
Probability Trail Mix - easy, 5 minutes.
Each recipe starts with an explanation and/or background to the math idea. After learning about the math concept, students create their edible hands-on project, play with their food, and then they eat their homework!
Some recipes are followed by additional challenge questions or additional information related to the math concept. The book ends with a Math Review, where kids will find questions and answers for review as well as solutions to any previous questions. Next is a glossary and finally the index.
There is a
free downloadable teacher's guide
offered on the purchasing website for Eat Your Math Homework, under the tab "Downloadables". Insdide you will find extra information and questions as well as fun worksheets for the student(s). We used a printout from this for the Probability Trail Mix.
How This Looked in Our Family
We started out by reading the 3 pages of information on probability - all kid friendly wording with delightful illustrations. Next we collected our ingredients and our "tools". Connor mixed everything together and then we took our chances playing with our snack.
Probability is a topic he wasn't understanding fully, with the percentages. With the help of his trail mix and a calculator, Connor filled out his worksheet, estimating his chances of pulling out various ingredients, and seemed to finally grasp the concept.
(this recipe was very yummy and easy and we made it twice.)
We then later went on to make Fraction Chips, Tessellating Two-Color Brownies and Milk and Tangram Cookies.
With the Tangrams, what I have to say I liked the most was that as Connor was playing with his edible tangrams, he flipped one over and said, "
Mom! I can tessellate my tangrams
!"
Final Thoughts
We
loved
this hands on math book. The fact that they can touch and manipulate
and
eat their project is just brilliant. I've never seen my son so eager for math before.
The kids, of course, absolutely adore the book. Emma (age 5) and Sam (age 3) were often each found thumbing through the book giggling at the illustrations. Emma joined us for the Probability Trail Mix and really was learning right alongside big brother.
I also love that this book can grow with the kids. We can revisit concepts we've done, and introduce the 2 that we skipped over for this round. (We are saving the Fibonacci Snack Sticks and Variable Pizza Pi for a later time).
Connor, at 8, still really struggles with his addition and subtraction facts and we want to really get those nailed down with our current math curriculum. Once he masters those (which should be soon) I plan on celebrating his accomplishment with some time in the kitchen making the Fibonacci Snack Sticks.
The kids loved
Eat Your Math Homework
so much they already informed me that we are doing the rest of the
Eat Your Homework series
.
To see the reviews more of
Ann McCallum's books
, click the banner below: