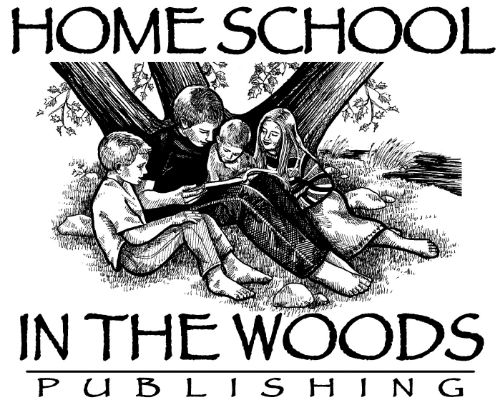 If you follow along with us over on Instagram you'll have noticed that one certain little boy has been having himself a real good time, immersed in the world of Robin Hood. All of our recent outlaw-ish fun has been courtesy of
Home School in The Woods
.
Home School in the Woods is a company that creates many different hands-on history materials for students, such as activity-paks, lap-paks, projects and studies. What we have done was a time period study with Project Passport. These studies are activity-based, providing several activities, projects, dramatized audio stories, and games to keep the children engaged and out of textbooks. There are three world history studies offered by Home School in the Woods. What we have been using is
Project Passport World History Study: The Middle Ages
. The duration of this "trip" is anywhere from 6 to 12 weeks, or longer if you have a younger student.
How does this all work?
There are two ways to purchase The Middle Ages study: a CD version or a download version We had access to the download version. With the download version you are sent a link to access a zip file and given easy instructions on how to save and extract all files to your computer.
Included in the files is a folder labeled "Intro-Etc" with five very useful files. Here I found very helpful "travel tips", which proved to be very useful once I began the study with my son. I was also able to make a shopping list of items we would use most often, and gather those we already owned.
In the files provided, each stop has an itinerary to guide you, a text to read, and a master's folder to find your printables.
The itinerary gives detailed supply list and step by step instructions to complete. This is where you are guided on which master file you need to print, and how to print it (single page or back to back) and on what (white paper, colored paper, white cardstock or colored cardstock), and how to piece it all together. You are also guided on which timeline figure to add, which audio file to listen to (if any), what article to add to your newspaper or what postcard to read.
Once I had our supplies ready, I began printing and putting together the first, out of 25, of the "stops". I'll say right now that this history study is very parent involved if you use it with a younger child - one that can't maneuver the printing and such on his own. While being very high in the parental help/supervision, I'd still say this all was very much worth it. I did this study with my 8 year old (3rd grade) and as such I was doing all the printing and gathering of supplies by myself. If you had an older student in junior high or high school, they could do this all on their own if you wish.
What exactly did we do?
There is so much information we have learned in the past 6 weeks, I can't possibly detail it all, so I'll highlight a few favorites.
In the 6 weeks we've had with Project Passport, so far we have completed 8 of the 25 "stops". Sometimes we take a day to complete a stop, and sometimes we linger for a week. For each stop I had Connor color and cut out timeline figures and any other project that needed his attention (maybe a newspaper one week or a postcard the next week) while I read the text that corresponded to our current stop.
To accompany our projects we did use the "additional resources" file and picked out a few books, both fiction and non, to read along the way.
Our first "stop" was mostly my setting up Connor's luggage folder, his Scrapbook of Sights, his timeline, and his passport. (The luggage is something you make once, to use with all
Project Passports
you might do).
Connor's thoughts on his Scrapbook of Sights: "
can I keep this in my room when we are all done!? I love it
!"
Stop 5, which was "Clothing and Food", was one of stops we lingered for many days. Here we made a "Dining Out Guide" which contains some wonderful Middle Age recipes. We learned what people wore in the different classes, and were given tips on how to piece together our own affordable Middle Age wardrobe.
We made our first "souvenirs", a Robin Hood Cap and a Floral Wreath. Connor was beyond excited to let all who would listen in the fabric store know just what we were doing with our dark green felt.
Robin Hood was by far Connor's favorite project, but a close second was Stop 6, "Community". Here we learned of life within a castle and we completed another souvenir craft card, "Sculpt with Marzipan". I believe that his siblings quite liked reaping the rewards of Connor's hard work as well.
Our marzipan turned out slightly different than was described in our craft card because we used ground almond that had skin left on, and we didn't dye it any color. The end result was still just as tasty. Connor sculpted a castle and afterwords we broke it all up and made little squares to dip in melted chocolate - which wasn't part of the plan detailed on the craft card.
A final favorite of Connor's that I'll share is the jousting project. Here he colored and pieced together an interactive tournament with knights and moveable lances. He was so pleased with this (and again younger sibling quite enjoyed his efforts as well.)
My Final Thoughts
Having never worked with Home School in the Woods before, I did find it a little overwhelming to start, because there is just so much to do and take in. (but this is a good thing!). Conveniently there is a file included called "Intro", and since I was overwhelmed I did start there and found several files of information to get me started and better acquainted with the project.
I do think all the work is time
well
invested and is worth the benefit of your child learning in an active, play-based manner. Never once did Connor complain to learn history, because it was never boring.
The project is well organized and the instructions are easy to understand and nicely detailed. In the end you are left with wonderful memories and a very colorful and sturdy scrapbook to enjoy and look back on.
Connor's Final Thoughts
"
Mom? Is this
(the project)
going to go on forever
?" Here I was thinking he was already done on stop 3 so I said, "
just a few more weeks, why? Are you bored already
?" and he replied, "
No! I want it to last my whole childhood
!"
__________________________________________

To see what other reviewers have said about Home School in the Woods and what projects they talked about, click the banner below: