Since beginning to homeschool my children I've been searching for fun and engaging ways to teach my children the true meaning of our celebrated holidays, while tying it all in to the cultural traditions they might see around town and at friends and family's houses. Easter, in particular, is one holiday I have had a hard time finding creative ways to engage my children. In all of my searching for Easter curriculums or Easter eggs, I had never came upon
Egglo Entertainment
before. I am so excited to have learned about this company and to have been able to review this company's product and share our experience with you all.
We have enjoyed using a total of 5 items, of many, from
Egglo Entertainment
, two of which being the
Egg-cellent Easter Adventure book
and
Glow in the Dark Egglo Eggs
. Egglo Entertainment offers a variety of products to teach children about the true meaning of Easter. The program is best suited for ages 4-12 years, but is easily adaptable for younger or older ages.
What we have used:
1) The
Egglo Glow in the Dark Egg Hunt Event Curriculum
is a one-time download, in PDF form, direct from the Egglo website. Inside the
60 page
guide you will find many "pick and choose" ideas to pull off your very own event, whether it be for a church or a small home-type thing, or a neighborhood egg hunt. Various invitations and decorations along with numerous event ideas, coloring pages, snack suggestions and more are included in this sizable PDF program guide.
This curriculum is something that, once purchased, can be accessed rather quickly. I was able to download my copy and read through it and begin to become familiar with the program and to plan out my own Easter egg hunt while I waited for the other products, intended to use along with this curriculum, to arrive at my door.
This particular product looks to be really well planned and thorough for a church event, of which we were not able to attain, unfortunately (because we are currently between churches). We did use this though, for a small family event. We enjoyed the question/answer section (page 15) to follow up our book reading. And Emma (age 4) loved coloring the themed pages provided (pages 47-58).
This particular product would also be great for a co-op event or something like MOPs.
2) The
Egglo Treasures Scripture Scrolls
is a set of 12 adorable little plastic scrolls that unravel to reveal a message based on various biblical verses, about Jesus. These can fit perfectly in the Egglo egg as a special little treat for your little egg hunters to find.
These scrolls were just
adored
by my kids, especially Connor. He declared them what he's been looking for "all his life." He was so very much anticipating our egg hunt and kept asking over and over if he could keep one scroll at the end of our hunt.
3)
Egglo Bible Verse Stickers
is a set of 12 stickers, made to remind your child of the scrolls in the adventure story book. The stickers are sized to fit inside the eggs as a hidden surprise, or they can be used to decorate the outside of the egg, or in any way you see fit. We used them on a coloring paper from our program guide curriculum.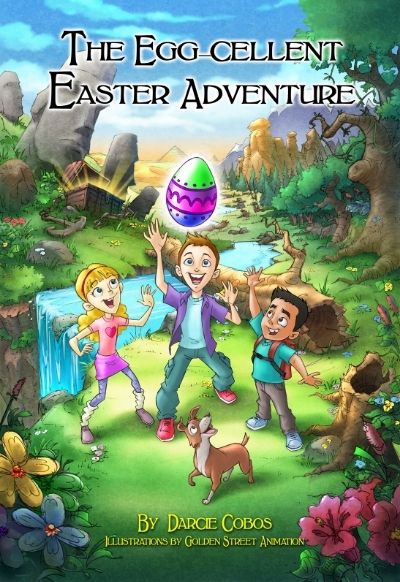 4)
Egg-cellent Easter Adventure book
is a beautifully illustrated 40 page storybook about 3 children and a dog that are sent on a scavenger hunt type of adventure around the world. Their goal was to find special glowing eggs with hidden scripture messages inside. During the adventure each kid, in turn, felt convicted, based upon the scripture they had been previously presented with, to change their life and attitudes to better glorify God.
I was, at first, a little bit concerned on the length of the book. It is on the wordy side and I have 3 young kids, ages 2, 4, and 8. My 4 year old and 8 year old were so intrigued with this book they sat through the entire reading with no problems at all. They
loved
the story.
If you have young kids that you know couldn't sit through a long reading of the book, Egglo Entertainment does offer a
DVD reading
of this storybook.
5)
Glow in the Dark Egglo Eggs
is a set of 12 eggs of 4 different colors (pink, blue, yellow and green) and two different designs (a cross or plain). These eggs can be charged with an electric light or by sunlight, then they will glow in the dark for 1-2 hours.
I found the eggs to be very sturdy and high quality. The eggs are translucent while remaining a bright color, speckled with what I assume to be the "glow" ingredient.
How we used these 5 items, together, from Egglo Entertainment:
When our package arrived and the contents were revealed, the kids allowed no time to be wasted in charging up our eggs. We set them all out in the sunlight and, while we waited, busied ourselves reading the
Adventure Book
, coloring some pages from the
curriculum guide
, and enjoying reading and using the scripture stickers.
I packed one scripture scroll into each egg and once it was dark outdoors I hid the eggs in our basement for the kids. The eggs had a very nice glow to them, and we were not at all disappointed.
The kids each gathered up a flashlight, and headed downstairs for their very own glow-in-the-dark adventure. They were so excited about their finds and even more excited to find their little treasure on the inside.
Connor and Emma (ages 4 and 8) were especially enjoying the whole experience and played again several times, on their own.
Later on in the week we had the cousins over for a visit and Connor was very much anticipating sharing his experience with them. He set up a hunt for them and they played for quite some time, finding the eggs and unraveling the scrolls, taking turns hiding or finding Easter eggs. This part was my favorite part because the cousins are growing up in an unbelieving home, and here we have a chance for a fun way to engage them and introduce them to some scripture and to Jesus.
For a 3rd experience with the hunt we had some neighbors over for a quick hunt where Connor again eagerly retold the adventure story and shared the story of Jesus being the light of the world.
My Thoughts:
I am very pleased with the products offered by Egglo Entertainment and very highly recommend this to families looking for a more Christian experience to a cultural tradition, or to churches looking for a great way to connect young families with a really fun Christ-centered Easter event.
This is something we will be hanging on to, to revisit each year, as a new twist on an old tradition.
Egglo Entertainment offers many fun and creative ways to enjoy their Easter eggs, as shown on their
Pinterest
page. You can also find Egglo Entertainment on
Facebook
,
Twitter
,
Instagram
,
YouTube
,
Google +
and
Tumbler
.
See what the rest of the crew has to say about
Egglo Entertainment
by clicking the banner below: