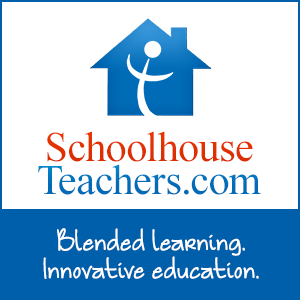 Before being blessed with a spot on the 2015 Schoolhouse Review Crew, I had never heard of SchoolhouseTeachers.com. I do not understand how it missed my radar, but sadly, it did! I'm excited to bring this site to anyone else's attention that may have missed this great site.
For the past two weeks my kids and I have been reviewing the
Yearly Membership
for
SchoolhouseTeachers.com
.
Just what is
SchoolhouseTeachers.com
anyways?
SchoolhouseTeachers.com
is a division of The Old Schoolhouse® Magazine. It is an online Christian homeschool curriculum site with over 100 available classes complied by many talented
teachers
. The offered courses are not live (meaning: accessible at anytime, at any pace) and are offered in a wide range of topics and age groups - toddlers all the way up to high school and including a few classes for parents!. All classes have a downloadable, printable element - for example a class outline, instructions, or worksheets.
This site is a wealth of information, rich in
content
. There is new material added frequently, keeping the site fresh. You are informed of these weekly updates, via your email, ensuring you don't miss a thing.
Courses vary in duration, ranging from a couple weeks to a year or more. They also range in format, such as video, audio and written.
Topics include just about everything you could need in your homeschool. Basic phonics, writing, spelling, math, science, home economics, history, geography, arts (including music and drama), foreign languages, fitness - just to name a "few".
SchoolhouseTeachers.com
can be used as your core curriculum, or as a supplement to what you already use.
What does this cost?
The
Yearly Membership
is usually $139 (U.S.) and includes your entire family with access to the entire site at any time of day or night and any day of the week.
Currently, SchoolhouseTeachers.com is have a huge sale for their memberships. The savings is 50% on the yearly membership, a $74 discount! If you sign up under this great price it will remain your yearly rate for as long as you keep a continuous membership.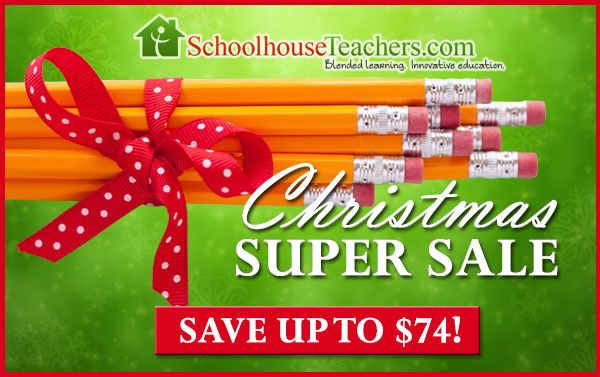 With your membership you'll get:
access to all daily, weekly, monthly and archived lessons.

all

Schoolhouse Daily Planners

- 5 in total! (Primary, Elementary, Special Needs, Middle School and High School)

you'll have access to archived and future

Expo webinars

monthly The Old Schoolhouse® Magazine, delivered to your email inbox plus all past digital issues of The Old Schoolhouse® Magazine - with search tool for topics! You can read these on your computer, smartphone, iPad and/or tablets!

free e-books each month, for your first year

member-only discounts from participating companies

automatic enrollment in the

affiliate program
How Did We Use
SchoolhouseTeachers.com
?
Before we received our password to this internet-based homeschool site I set out to browse around and familiarize myself with the site. There is a handy little button called "
New Here
", on the right hand side of the site. Since I was new, I clicked. There I found a large amount of information about the site. Personally, I'm more of a visual person, so I strayed away and watched the
intro video
instead.
I noticed a link to the
Facebook group
and clicked over to join. It's a group for everyone, whether you are a member or just curious about the site and want to learn more.
Next I browsed the
freebie site
where I downloaded the Christmas Spelling, which is drawn from the
Schoolhouse Spelling
series. I printed off the cute little nativity coloring page for Emma (age 4) to color, cut and paste.
Not wanting to overwhelm my young students, we didn't do any actual spelling since we are already immersed in our own curriculum and routine - I was looking at the site from a supplemental viewpoint.
After getting my login information I do admit I was very overwhelmed with the amount of information to be found here. There is just so much to see and do! (which is a good thing, right?). The
site directory
and search tool (on right hand side of "
home
" page) quickly become my newest friends, as well as the
printable master list
. These things, combined, helped me gather my thoughts properly.
Since I was using the site as a supplement to our current curriculum, I decided to browse the art class options, which is an area I often leave out of our day to day learning. (terrible, I know!)
I chose Art Techniques.
This class is meant for upper elementary and higher... I have 2nd grade and younger. I figured I'd give it a try anyway. I went to the archives and chose the first lesson, because I like to do things in order. What I found was the Colored Pencil Drawing lesson. It is intended to be a 4 part (4 week) lesson. I read the overview myself while the kids played, then asked them what they wished to draw.
Emma chose to draw a cat, and Connor wanted to draw his toy dinosaur. They eagerly drew their subjects and declared they did not want to wait to finish, so they colored and declared their art done all in one day. Emma added to her picture, saying that the cat needed babies.
I really loved how easy this was to implement. I never realized art could be as easy as simply picking up a toy and drawing what you see!
Next, I browsed around the
Family/For Parents
section, since the kids are mostly taken care of curriculum-wise. Here I found myself quickly making a mental checklist of things I want to revisit in the new year. To name a couple, Family Fitness and Music-Voice are ones I'll be looking more into when our days slow down for school break.
Until then, I chose to open up the Monthly Menu. (note: you can totally access this site on your tablet, iPad or iPhone and bring it along to the kitchen, which I found out later that night when I couldn't sleep!)
For the sake of staying thematic (so me), I then clicked on December. There are just so many recipes to choose from here! Soups, main meals, desserts, you'll find it all. I clicked on Christmas Wreaths, and then realized I had all the ingredients needed so we all gathered in the kitchen.
In the following days, we looked into music since this is another area we lack in (except for our harmonica playing Sammy). Under the
Resources
tab we found Schoolhouse Music: Recorder. How perfect for our age group!
I pulled out my old recorder I had in elementary school, and Connor (age 7) joined me for lessons. Emma joined soon after. These lessons are video lessons, with an option to print out the lesson as well. (we did both options). These lessons are intended to be weekly lessons, one lesson a week. So currently we are still with lesson 2.
I can't tell you how excited I am that the kids are no longer honking and screeching on these things - not on purpose anyways.
The 2nd week we had to review
SchoolhouseTeachers.com
, we were, in our regularly planned schedule, reading and learning with Corduroy. We are very much into learning through literature in our house, so I was happy to come upon the class, Pre-K Activities: Read and Play, under the
Dailies
tab. I clicked on the option for the complete list of stories and was so happy to see Corduroy!
As I already mentioned, I'm not big on the chaos of arts/crafts but I want to be because I know the importance of creativity. So, we gave the bear craft a try, that is suggested with the Read and Play class for Corduroy.
I was so happy with this craft. It was easy to prepare, Emma got in some wonderful cutting practice, and she was so happily occupied with this for quite some time. The next day we went on to complete the themed coloring page and maze printouts from this class, and Connor (age 7) happily did the dot-to-dot printout.
As I mentioned previously, I am theme oriented in my teaching (as well as literature oriented) so I didn't think I could be more pleased with our lessons from this site so far. But then, later at night, I was again looking at classes via my iPhone and found Daily Writings.
Writing is something we struggle with, with Connor. He hates to write and it's like pulling teeth to get him to write anything. So I decided to give this class a look over.
I clicked on December 11, read it over, and loved it. For this particular day, there is a short history lesson with Dylan Thomas and his memoir essay, "A Child's Christmas in Wales". A video is offered, to watch, as well as a link to his entire essay. I liked this because I felt that maybe later on I'd want to read this myself. The writing prompt of the day was to then talk about your own Christmas memories.
I immediately new Connor would actually love to write about this topic, and felt that it'd be a neat family activity if we wanted it to be.
The next day (now Dec 12) I clicked on the Daily Writings again and seen a new class available. We went ahead with that one, to act like we were already taking the daily lessons. Now we were to read two small quotes and then write about "what makes you happy". I love that there's a small lesson in literature then a prompt. I presented the lesson to Connor and he eagerly wrote his list. Eagerly! One happy momma here.
To include Emma, who can't write yet, I had her draw what made her happy. (she drew hugs, and parks)
My Thoughts on
SchoolhouseTeachers.com
?
I approached this site with the intent to use it as a supplement, since the site is advertised as being useful as full curriculum and/or a supplemental one.
There is so much information to be found in this site I could see it easily being useful as a main core of your school. But, personally, I didn't want to re-write my plans and I was so overwhelmed with the amount of choice to be found here. (Being overwhelmed is way better than being underwhelmed). It took me a few days to be comfortable and learn the ropes of the site, and then I fell in love.
The site is very versatile. I love that there's something to be found for everyone in our house. I love that it can pick up the slack I have as a teacher (the arts/music/writing) and I don't need to set aside our core curriculum that we already use and love.
The only thing I didn't like was it was hard to find topics that fit our ages (7, 4 and 2). I wish it were organized better, by grade, or young elementary separated out from all elementary, making it clear what grades the class was expected for, before clicking into it and seeing it was too old or too young. The classes are there for our age group, I just had to hunt them down and do a lot of clicking and back clicking.
Overall, I am happy with the site and was able to work around my one dislike by printing out the master list and highlighting what would work and ignoring the rest, for now.
I will continue on to use this site and plan to implement some fun things into our curriculum, in the new year. I'm thinking of adding sewing (for me!), fitness, music theory, figures in history, bible and/or arts. I'll also be keeping with the daily writing for Connor and Pre-K Read and Play for Emma.
Too see how others on the Review Crew used this site, visit the link below.