We are using
Hubbard's Cupboard
2's Curriculum, adding in letters, shapes and colors. Emma is 28 months old.
Bible Memory
:
Psalm 119:105 Thy word is a lamp unto my feet and a light unto my path
Theme
:
Fall/Pumpkins/Halloween
Literature
:
Language Arts:
I printed off some pre-writing pages and the "S is for ...." do a dot pages (
Spiders
and
Scarecrows
) from 2 Teaching mommies. I printed enough for a few days but she did them all in one sitting asking for "one more time!"
Math
:
We have some Halloween stampers and I had Emma stamp and count them. Girly loves to stamp!
Art
:
We mixed red and yellow paint to make orange then sponge painted pumpkins and added leaf stickers.
Weather
:
We talked about the weather and read Pooh's My Favorite Seasons and used a printable
What Should I Wear?
dress up cat from KizClub - I attached magnets to it and put it up on the white board. Emma loved it!
Life
:
We went to the local pumpkin farm to pick pumpkins and play in the maze.
Role Playing
:
Emma played with baby dolls and stuffed animals a lot. When baby brother wasn't using his bed Emma had all her toys take turns napping. lol.
At other times she was sure to keep a close eye on brother.
Resources:
2 teaching mommies
Fall Fun Printable Pack
from Homeschool Creations
Pumpkin Tot Pack
from 2 Teaching Mommies
Halloween printables
by 1+1+1=1
Linking up with
: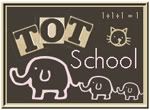 .