We are using
Hubbard's Cupboard
2's Curriculum, adding in letters, shapes and colors. Emma is 26 months old.
Bible Memory
:
Colossians 3:20 Children, obey your parents in everything, for this pleases the Lord.
Theme
:
Family
Sensory Bin Fun
:
This month I went with the theme I guessed was supposed to be Hubbard's Cupboard torn paper idea... 'back to school'. But instead of torn paper, I put in foam bath letters and numbers from the dollar store, a small calculator, kid scissors, a small pad of paper, a pencil, a globe ball, backyardigan stickers and a pencil bag filled with crayons.
She
loved
this bin, playing with it several times a day, every day. She especially loved the stickers and the pencil bag w/ crayons.
Language Arts
:
We learned the letter F, reading Chicka Chicka Boom Boom and adding the F to our tree (printed from KizClub). She played with an
F puzzle
several times this week.
Literature
:
Emma loves books, so we read a lot.
1)
The Daddy Book
-
Todd Parr books are always a hit at our house
2)
I Love My Daddy
-
such a sweet book, and just the right length for a 2 year old.
3)
Mommy Loves Her Baby/Daddy Loves His Baby
-
cute book showing all kinds of baby animals and their mommas with nice poetry type wording
4)
You and Me Together
-
I LOVE this book. Maybe more than either of the kids. lol. I love it for the photography, of course. Beautiful book showing families around the world.
5)
Some Dads
-
really cute book that talks about all the different kinds of dads there are. Nice length for a toddler. Love the art work.
6)
Your Daddy Was Just Like You
-
This fit big brother more, but Emma did enjoy it too. It feels more like a book that should be read by Grandma. Not mommy or daddy. But I liked that it talked about how Daddy used to be afraid to try new things too (since our son is currently struggling with courage to ride a bike).
Math
:
AB pattern
- I did try showing her an "AB" pattern with family themed printouts.
Size Sort
- Emma wasn't interested in this at all. I offered it and tried to show it. But she is only two. We did try though!
Art
:
Family Tree
from KizClub
Emma really enjoyed the craft from KizClub. First I had her color the tree and apples, then we glued on printed out pics of family members. I helped her cut out the apples then she glued those to the tree. Very happily. "Hi Grandmom!" .... "It's DADDY!" (then she took 'daddy' and put him next to her photo and started playing like they were dolls. "Emma up, Daddy. Up!" - wanting the daddy photo to pick up the Emma photo. lol.
We didn't worry about order or anything, just enjoying the photos of family and gluing them to the tree. It did spark a giggle from me though when my brother was the bottom center of the tree and from him stemmed Great Grandpa then the rest of us. lol.
Songs/Movement
:
5 little monkeys with props from
KizClub
5 little ducks with props from
KizClub
Linking up with: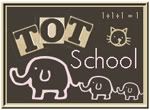 .
.