We are using
Hubbard's Cupboard
2's Curriculum, adding in letters, shapes and colors. Emma is currently 25 months old.
This is the first "official" year I'm making a point to teach Emma directly. Before it was just regular play and she picked up a lot off big brother's schooling.
I only do this mommy-led learning twice a week, and
only
if she wants to. We don't force anything at this young age. We go at her speed and her interests.
Emma's first day portrait
Bible Memory
:
Genesis 1:1 In the beginning God created the heavens and the earth.
The Rhyme Bible Storybook for Toddlers
Theme
:
Oceans/Beaches
Emma loves books. She is often seen sitting for long stretches of time flipping through books. So it was no surprise then when we would sit and read her these books she'd be saying "More!?" before I barely even said "the end"
Literature
: (these we either had on hand or found at the library)
1)
Our Day at the Seashore
This is the only book she didn't sit and listen though start to finish. It is a lengthy book for a 2 year old, even one that has a fierce love of books. Big brother loved it though. ;)
2)
Sea, Sand, Me!
both little sister and big brother loved this book. Cute little book about a day at the beach and all that you can do and see while there.
3)
What Lives in a Shell? (Let's-Read-and-Find-Out Science 1)
no comment on this book - it was checked out when we went to find it at our library! :(
4)
I Saw the Sea and the Sea Saw Me
on our Kindle for iPad
:
(all of which we got for free downloads over time)
1)
Summer Alphabet Words (for beginning readers)
2)
Beach: Discover Series Picture Books for Kids
Math
:
I chose to focus on the star shape and we used star stickers to count and talk about colors. Great fine motor skill practice too! We chose black paper for "night", since we were learning about creation.
I had also drew a number 1 on an index card to hang on her cork board next to her letter of the week (B) and had her place one star sticker below the number.
Art
:
I happened to have a large baggie of shells I got when I was a little girl (in 3rd grade) on vacation in Florida. I planned on having Emma make prints and such in playdough with them. She had no interest though. Big brother really liked it however! :)
We did sand painting. I happened to find these little colored sands at the dollar store.
She
loved
this suggested activity from Hubbard's Cupboard. Loved it.
First I had her paint on some glue which she quickly got tired of. But she did yell out "White!" repeatedly, so we snuck in some color practice. ;p
This is one activity big brother jumped in on too after seeing how much fun his sister was having.
Songs/Movement
:
we did the suggested cute songs from Hubbard's Cupboard
She also participated in big brother's song and movement.
For the sandcastle song (from hubbard's cupboard's curriculum) we went outside to the sandbox to sing while building sandcastles with an added bonus of learning patience (when sister keeps stomping on your castles) and turn taking (when each has a favorite shovel or bucket).
Language Arts:
We read Chicka Chicka Boom Boom and used a cute printout from KidzClub that I cut out, laminated, and stuck on our wall. We're using tac to place the letters we learn up to the tree, so it's removable if she wants to take it back off and act out the story.
She loved the do-a-dot Bb printout from Confessions (linked below). I showed her once how to do it and said "buh" while placing the dot. She then happily slammed the bingo marker down while saying the B sound over and over again. (note: the bingo markers
do
stain, but Emma doesn't like getting dirty so I don't have to worry overly much. There are kid friendly markers that can be found though - the "do-a-dots")

letter B printable from 1+1+1=1. I placed magnets
on the back for her to use on her white board.
We read from:
My ABC Bible/My ABC Prayers
- reading both "Bb" sections
Big Thoughts for Little People: ABC's to Help You Grow
- Bb section
Free Play
:
She was often found playing baby. Diapering it. Walking it in her little baby stroller. Giving plenty of kisses and snuggles. But her favorite was when daddy set up the real bassinet for her expected baby brother.
Puzzles were a frequent choice this week.

Other Resources
:
Letter B printables
from 1+1+1=1
Letter of the week
(B) from Confessions of a Homeschooler
A-Z Collage Sheets
(B) from Confessions of a Homeschooler
for big brother (5K)
:
1)
The Seashore Book
2)
1-2-3 Draw Ocean Life
3)
Down in the Sea: The Jellyfish
4)
Jellies
5)
I Am An Artist
6)
All Those Secrets of the World
linking up with: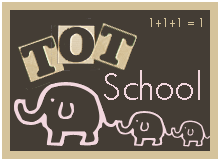 .