We are using
Hubbard's Cupboard
2's Curriculum, adding in letters, shapes and colors. Emma is currently 26 months old.
Bible Memory
:
Genesis 1:1 In the beginning God created the heavens and the earth.
The Rhyme Bible Storybook for Toddlers
Theme
:
Oceans/Beaches
Literature
:
Emma loves books. She is often seen sitting for long stretches of time flipping through books. So it was no surprise then when we would sit and read her these books she'd be saying "More!?" before I barely even said "the end"
1)
Under the Sea (Push-Pull-Turn and Lift Series)
this is a really cute interactive board book we found at a thrift shop. Shapes, patterns, ocean animals, numbers and colors are all found in this book.
2)
Ten Little Fish
both kids enjoy this rhyming and counting (backwards) book.
3)
Fish, Swish! Splash, Dash!: Counting Round and Round
fun little book that "never" ends. You just keep turning the book and continuing to read and count fish forward and backward. Which Emma would love if I did, but I ended it on three go arounds. lol.
on our Kindle for iPad
:
(all of which we got for free downloads over time)
1)
Jiggly Jellyfish!
2)
Fish!
3)
Seahorses! 2-Pack of Seahorse eBooks
4)
Starfish! 2-Pack of Starfish eBooks
5)
Fun With Claws the Crab
Math
:
she chose on her own to do this puzzle and made up little diddy's about each number.
"You're fine 4. You're fine. nigh' nigh' 4."
her sensory bin I made up. She was using tongs to place the marbles
in an ice cube tray (1:1 correspondence). She didn't care much about the
little ocean creatures I put in, but big brother sure loved them!

this was meant to be an art activity, but she turned it into math,
preferring to stack and count her muffin tin crayons

this was a suggested activity from Hubbard's Cupboard that, to be honest,
I didn't have much confidence in. She was to place 1 beach themed sticker in 1 box for 1:1
correspondence learning. I quickly told her what to do, then turned to big
brother to finish up his work with him. I turned back and was
shocked she did exactly what she was told!
Art
:
I gave her ocean themed stickers and markers. (the girl loves stickers!)
I had a second set of stickers I meant
to see if she'd organize by color, but we never got to that.
Last week she wanted nothing to do with play dough.
Until big brother abandoned his play area and then she
was happy to take over making shapes in the dough.
This was an activity from Hubbard's Cupboard, where she decorates
a paper bag "beach towel". I gave her several different methods of
painting to choose from (circle sponge, brush and foam brush).
Parent error: I had to switch out the plate for a tea saucer
after she knocked down that bigger plate. whoops. lol.
Songs/Movement
:
we did the suggested cute songs from Hubbard's Cupboard and I added in "Down by the Bay", with props from KidzClub (linked below under "other resources")
Language Arts:
We read from:
My ABC Bible/My ABC Prayers
- reading both "Bb" sections
Big Thoughts for Little People: ABC's to Help You Grow
- Bb section

matching ocean animals (link is below)
Other Resources
:
Ocean Animals Tot Book
from 1+1+1=1
Ocean Art
from Preschool Express
Ocean Themed Music
from Preschool Express
Sea Animals Match
from KizClub
Down by the Bay
nursery rhyme props from KizClub
Under The Sea
from Itsy Bitsy Learners
for big brother (5K)
:
1)
The Seashore Book
2)
1-2-3 Draw Ocean Life
3)
Down in the Sea: The Jellyfish
4)
Jellies
linking up with: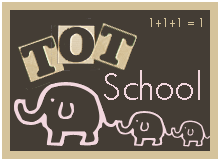 .