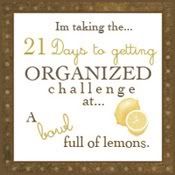 I'm going to expose a secret today. We're not rich. Also, we don't prioritize fancy furniture. lol.
So here is my well used computer desk. It used to be the hubby's before we got married. I get this one and he gets one flat one with two drawers... I am SO glad the challenge isn't to organize ALL computer desks in the house. Just mine, right? So here it is:
Before

candles are for storage right??

TARGET!! Sadly, this pen went in the trash since it won't write. and EW!
my fingers are so black from going through so many pens!

new pen organizers.. with PENCILS!! We have been missing pencils for so long now.
At least a year.

I completely forgot about this engraved stapler!
After
My only complaint is I keep forgetting where my camera cord is. Oh, and the stack at the top needs to stay since it holds up the Internet thingy there. That's the official term. Internet thingy.
It might look like it needs more work to some people... but I'm happy. The cords that remain on the desk belong there, one is volume control, the other is a plug in for zip drives. The stack of papers needs to stay too. Working on next week's curriculum.
And I'd also like to point out, by looking at this old desk, you can really tell CDs are becoming a thing of the past.
And now for the 3rd day, Tubberware cupboard!

I'm not even sure why we have so many sippy cups.
Connor doesn't use them, and I want Foggo for Emma.
And seriously, do we need to keep all the restaurant cups??
See that mixing bowl on the top shelf? Yeah.
It has a crack in the bottom, yet I still keep it. Why!?
my empty cupboard did not pass the white "glove" test. Gross.

Ta da! A sheet of contact paper, most sippys in the give away box,
and one basket to hold the tupperware... and wait.. what's that up top!?! An empty shelf!?!?

.